Volkswagen

Vehicle Specialists Preview the 2023 VW Lineup

NOV 15, 2022
9 minute read
𝘚𝘵𝘺𝘭𝘦. 𝘗𝘦𝘳𝘧𝘰𝘳𝘮𝘢𝘯𝘤𝘦. 𝘝𝘢𝘭𝘶𝘦. 𝘙𝘰𝘰𝘮𝘪𝘯𝘦𝘴𝘴. 𝘚𝘢𝘧𝘦𝘵𝘺-𝘦𝘯𝘩𝘢𝘯𝘤𝘪𝘯𝘨 𝘵𝘦𝘤𝘩𝘯𝘰𝘭𝘰𝘨𝘺. 𝘕𝘰 𝘮𝘢𝘵𝘵𝘦𝘳 𝘸𝘩𝘢𝘵'𝘴 𝘢𝘵 𝘵𝘩𝘦 𝘵𝘰𝘱 𝘰𝘧 𝘺𝘰𝘶𝘳 𝘱𝘳𝘪𝘰𝘳𝘪𝘵𝘺 𝘭𝘪𝘴𝘵, 𝘺𝘰𝘶 𝘤𝘢𝘯 𝘧𝘪𝘯𝘥 𝘪𝘵 𝘪𝘯 𝘵𝘩𝘦 𝘝𝘰𝘭𝘬𝘴𝘸𝘢𝘨𝘦𝘯 2023 𝘮𝘰𝘥𝘦𝘭 𝘭𝘪𝘯𝘦𝘶𝘱. 𝘏𝘦𝘳𝘦, 𝘪𝘯 𝘵𝘩𝘦𝘪𝘳 𝘰𝘸𝘯 𝘸𝘰𝘳𝘥𝘴, 𝘝𝘰𝘭𝘬𝘴𝘸𝘢𝘨𝘦𝘯 𝘷𝘦𝘩𝘪𝘤𝘭𝘦 𝘴𝘱𝘦𝘤𝘪𝘢𝘭𝘪𝘴𝘵𝘴 𝘱𝘳𝘦𝘴𝘦𝘯𝘵 𝘢 𝘨𝘶𝘪𝘥𝘦𝘥 𝘵𝘰𝘶𝘳 𝘰𝘧 𝘸𝘩𝘢𝘵 𝘵𝘰 𝘦𝘹𝘱𝘦𝘤𝘵—𝘧𝘳𝘰𝘮 𝘮𝘶𝘴𝘵-𝘩𝘢𝘷𝘦 𝘧𝘦𝘢𝘵𝘶𝘳𝘦𝘴 𝘵𝘰 𝘦𝘹𝘩𝘪𝘭𝘢𝘳𝘢𝘵𝘪𝘯𝘨 𝘴𝘱𝘦𝘤𝘪𝘢𝘭 𝘦𝘥𝘪𝘵𝘪𝘰𝘯𝘴—𝘸𝘪𝘵𝘩 𝘦𝘢𝘤𝘩 𝘮𝘰𝘥𝘦𝘭 𝘪𝘯 𝘵𝘩𝘦 2023 𝘝𝘞 𝘷𝘦𝘩𝘪𝘤𝘭𝘦 𝘧𝘢𝘮𝘪𝘭𝘺.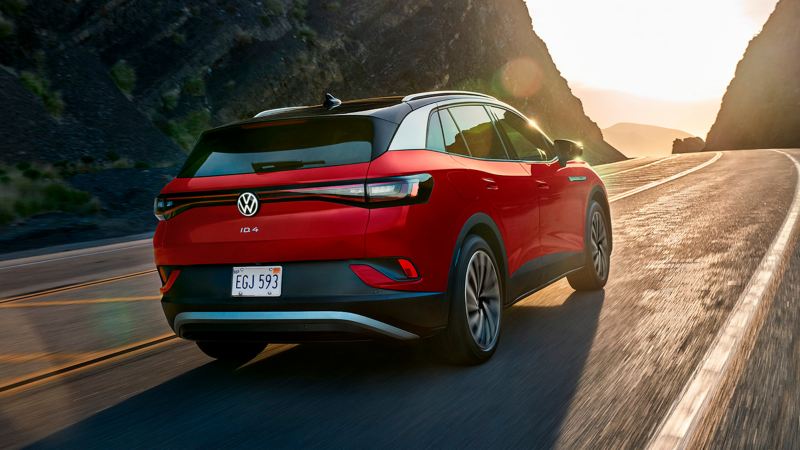 Model-year 2023 is an exciting one for the VW ID.4 electric vehicle. It's full of enhancements inside and out, and it's adding some long-awaited features that customers have been looking for. Outside there are great design updates, including eight new exterior paint colors, new wheel designs, as well as a new rear lighted logo on the S and S Plus trims. Inside, the 2023 ID.4 offers exciting new interior worlds with different color palettes, materials, and décor for a more premium and modern space. We're also integrating new features like a freshly designed center console, a standard 12-inch Discover Pro Max center display, and 360-degree Area View⁠ available on the new S Plus trim.
All ID.4 models continue to offer IQ.DRIVE advanced driver-assistance technology⁠ as standard, with the new enhancement of assisted lane changing as well as Park Assist Plus with Memory Parking,⁠ which gives customers some assistance during specific parking maneuvers.
Additionally, we're introducing the ID.4 Standard, which has a new, smaller 62 kWh battery pack and an EPA-estimated range of 209 miles.⁠ It has a starting MSRP of $37,495,⁠ which makes it an incredible value—it's so important to the future of ID.4 and the goal of making EVs more affordable.
In 2023 we're continuing our partnership with Electrify America (EA) to help make DC fast charging easy. As a 2023 ID.4 customer, you get a three-year, 30-minute EA charging package included with the purchase of your vehicle.⁠ And here's something we're especially proud of: The 2023 ID.4 is being assembled in the U.S., at our state-of-the-art plant in Chattanooga, Tennessee. It's the result of an $800 million plant investment, which includes a new ID.4 body shop and a dedicated battery assembly facility. Between all of the new vehicle enhancements and assembly now happening right here in the U.S., the 2023 ID.4 has so much to offer, and we see so much potential for 2023.
- 𝘓𝘢𝘶𝘳𝘢 𝘙𝘰𝘣𝘦𝘳𝘴𝘰𝘯, 𝘗𝘳𝘰𝘥𝘶𝘤𝘵 𝘗𝘭𝘢𝘯𝘯𝘦𝘳, 𝘐𝘋.4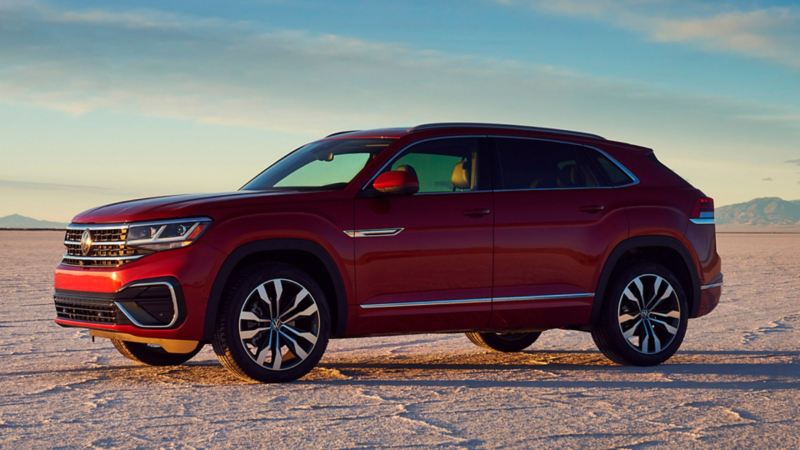 Atlas and Atlas Cross Sport
For 2023 the Atlas and Atlas Cross Sport  continue to be packed with tech and safety-enhancing features—like standard Blind Spot Monitoring and Front Assist,⁠ available VW Digital Cockpit Pro, and available Travel Assist and Emergency Assist⁠—designed to help keep you and your family safe and connected. The Atlas has sophisticated and timeless styling that doesn't sacrifice space for passengers and cargo. Meanwhile, the Atlas Cross Sport has its own sleek and bold design, while sharing a lot with the Atlas, especially the interior space. The Atlas Cross Sport has an amazing amount of second-row legroom, so you can take your friends on hiking trips, or put the seats down to store supplies for your next home-improvement project.
- 𝘓𝘢𝘶𝘳𝘦𝘯 𝘔𝘶𝘭𝘷𝘪𝘩𝘪𝘭𝘭, 𝘗𝘳𝘰𝘥𝘶𝘤𝘵 𝘗𝘭𝘢𝘯𝘯𝘦𝘳, 𝘈𝘵𝘭𝘢𝘴 𝘢𝘯𝘥 𝘈𝘵𝘭𝘢𝘴 𝘊𝘳𝘰𝘴𝘴 𝘚𝘱𝘰𝘳𝘵
I'm a big fan of the family-friendly features available in the Atlas, like USB ports in all three rows, easy-entry second-row seating, and four-door keyless entry. As a parent with small kids, I know the first thing you want to do is get your child into the second-row seat. With keyless access on the second-row doors, everything can be done in one motion—this makes it a lot easier for parents, especially ones with multiple kids. 
- 𝘑𝘪𝘮 𝘉𝘶𝘳𝘤𝘩, 𝘗𝘳𝘰𝘥𝘶𝘤𝘵 𝘗𝘭𝘢𝘯𝘯𝘦𝘳, 𝘈𝘵𝘭𝘢𝘴 𝘢𝘯𝘥 𝘈𝘵𝘭𝘢𝘴 𝘊𝘳𝘰𝘴𝘴 𝘚𝘱𝘰𝘳𝘵
I took my family of 7 across the U.S. for a 30-hour road trip in the Atlas to visit relatives. I own a minivan but I prefer taking the Atlas because my family loves the rear-passenger roominess and comfort. The kids have their own space, which cuts down on the fighting.
- 𝘚𝘢𝘮 𝘍𝘪𝘦𝘭𝘥, 𝘗𝘳𝘰𝘥𝘶𝘤𝘵 𝘗𝘭𝘢𝘯𝘯𝘦𝘳, 𝘈𝘵𝘭𝘢𝘴 𝘢𝘯𝘥 𝘈𝘵𝘭𝘢𝘴 𝘊𝘳𝘰𝘴𝘴 𝘚𝘱𝘰𝘳𝘵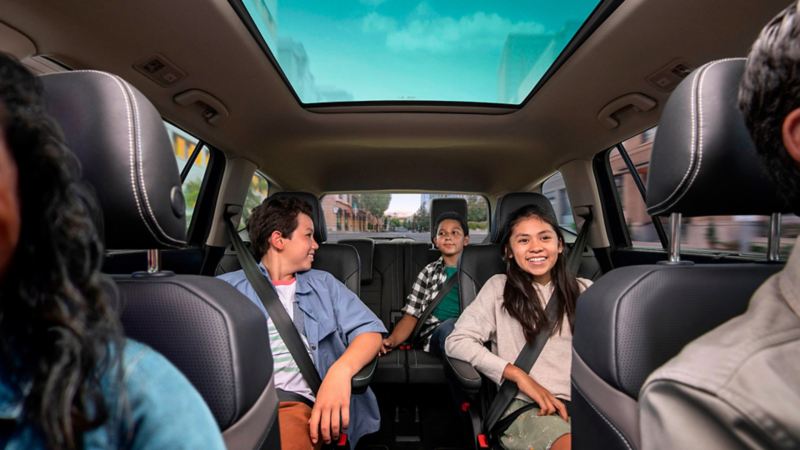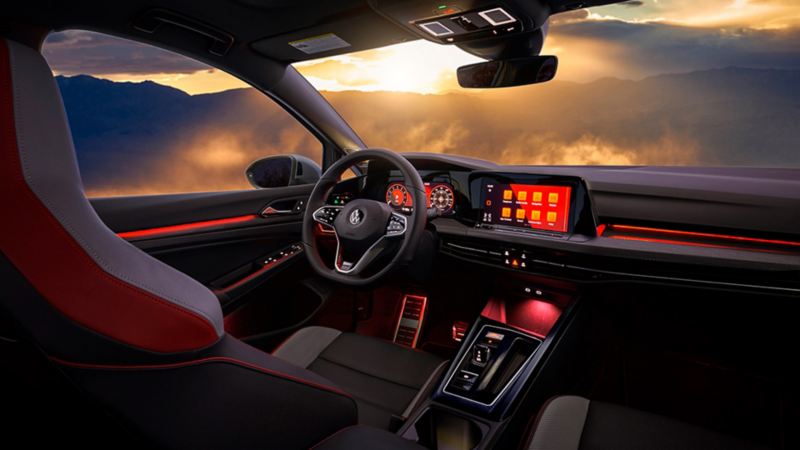 Keeping up the momentum of last year's debut of the Mk8 Golf GTI  and Golf R, the 2023 Golf GTI brings updates including the GTI logo embroidered in the front seats, and standard LED projector headlights on the Golf GTI S trim. Back in 1983, the Golf GTI was the first "hot hatch" to launch in the U.S., so to celebrate its four decades as one of most fun-to-drive cars on American roads, we're introducing the 2023 40th Anniversary Edition. It's a limited-production, driver-focused model based on the Golf GTI S trim, enhanced with DCC active chassis control, unique 19-inch alloy wheels, and much more. 
- 𝘔𝘦𝘨𝘢𝘯 𝘊𝘭𝘰𝘴𝘴𝘦𝘵, 𝘗𝘳𝘰𝘥𝘶𝘤𝘵 𝘗𝘭𝘢𝘯𝘯𝘦𝘳, 𝘎𝘰𝘭𝘧 𝘙, 𝘎𝘰𝘭𝘧 𝘎𝘛𝘐, 𝘈𝘳𝘵𝘦𝘰𝘯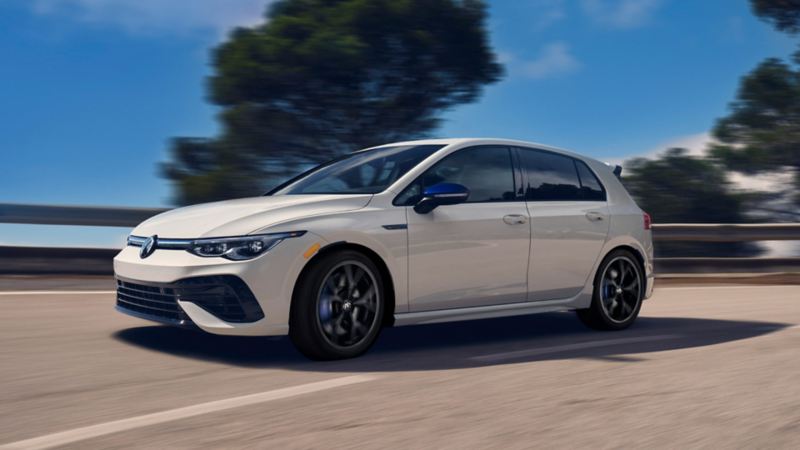 Golf R , our performance halo model, has its own big anniversary as well: We're joining other Golf R markets worldwide in celebrating 20 great years of R. We're sharing in the birthday party by introducing a limited-production 20th Anniversary model  that includes the special design features of the European version, while at the same time being uniquely ours—including an available manual transmission in the U.S. and Canada only.
- 𝘔𝘦𝘨𝘢𝘯 𝘊𝘭𝘰𝘴𝘴𝘦𝘵, 𝘗𝘳𝘰𝘥𝘶𝘤𝘵 𝘗𝘭𝘢𝘯𝘯𝘦𝘳, 𝘎𝘰𝘭𝘧 𝘙, 𝘎𝘰𝘭𝘧 𝘎𝘛𝘐, 𝘈𝘳𝘵𝘦𝘰𝘯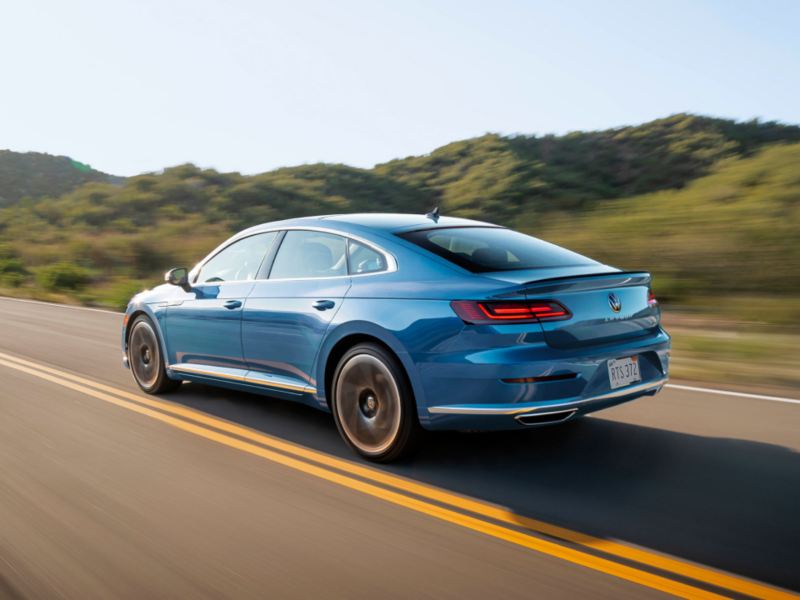 For Arteon, it's always been a head-turner since its debut, to go with its great combination of power, performance, cargo and passenger space, features, fuel economy, and available all-wheel drive. Last year we added a 300-hp engine paired with a sport 7-speed DSG® transmission, and in 2023, we're adding even more standard equipment to the SE R-Line and SEL R-Line trims, while the SEL Premium R-Line trim remains an elite sportback-style sedan. My favorite changes for 2023: the new exterior color, Kingfisher Blue Metallic, and the 20-inch black graphite wheels, now standard on the SEL R-Line.
- 𝘔𝘦𝘨𝘢𝘯 𝘊𝘭𝘰𝘴𝘴𝘦𝘵, 𝘗𝘳𝘰𝘥𝘶𝘤𝘵 𝘗𝘭𝘢𝘯𝘯𝘦𝘳, 𝘎𝘰𝘭𝘧 𝘙, 𝘎𝘰𝘭𝘧 𝘎𝘛𝘐, 𝘈𝘳𝘵𝘦𝘰𝘯
I consider Jetta to be the complete package: fuel economy,⁠ low maintenance cost, and strong value. And, as safety-enhancing features are top of mind for many of our customers, Jetta is delivering there as well, with advanced driver-assistance technology⁠ now available on all trims. Jetta recently received big updates in design and drivability, making it not just a practical choice, but a fun one. Anyone looking for a fun daily driving experience will be happy to know that a manual transmission is available on the S and Sport trim levels.
- 𝘙𝘢𝘤𝘩𝘦𝘭 𝘞𝘩𝘪𝘵𝘸𝘦𝘭𝘭, 𝘗𝘳𝘰𝘥𝘶𝘤𝘵 𝘗𝘭𝘢𝘯𝘯𝘦𝘳, 𝘑𝘦𝘵𝘵𝘢 𝘢𝘯𝘥 𝘑𝘦𝘵𝘵𝘢 𝘎𝘓𝘐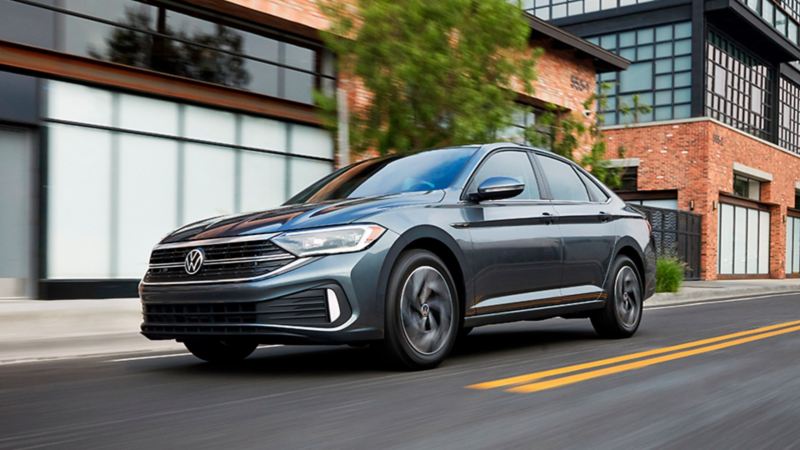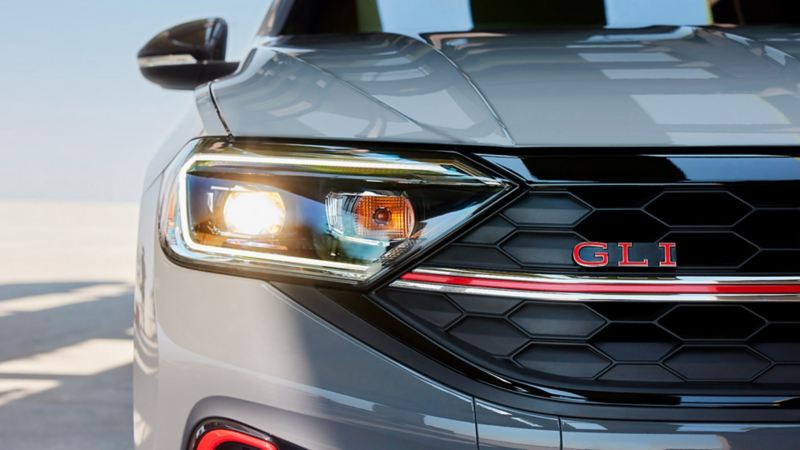 Jetta GLI  is often described as the halo of the Jetta family, and with good reason. It's a dynamic car that offers a distinctive look and enhanced performance, without sacrificing comfort or everyday value. Enthusiasts will appreciate the sharp styling details, from the honeycomb grille, to the dual chrome exhaust outlets, to the red stitching throughout the interior. Then there's the engine's 228 horsepower and 258 pound-feet of torque, along with the car's VAQ differential and XDS® system for improved handling. And of course, it wouldn't be an enthusiast favorite without the ability to shift it yourself: Jetta GLI offers a standard six-speed manual transmission.
- 𝘙𝘢𝘤𝘩𝘦𝘭 𝘞𝘩𝘪𝘵𝘸𝘦𝘭𝘭, 𝘗𝘳𝘰𝘥𝘶𝘤𝘵 𝘗𝘭𝘢𝘯𝘯𝘦𝘳, 𝘑𝘦𝘵𝘵𝘢 𝘢𝘯𝘥 𝘑𝘦𝘵𝘵𝘢 𝘎𝘓𝘐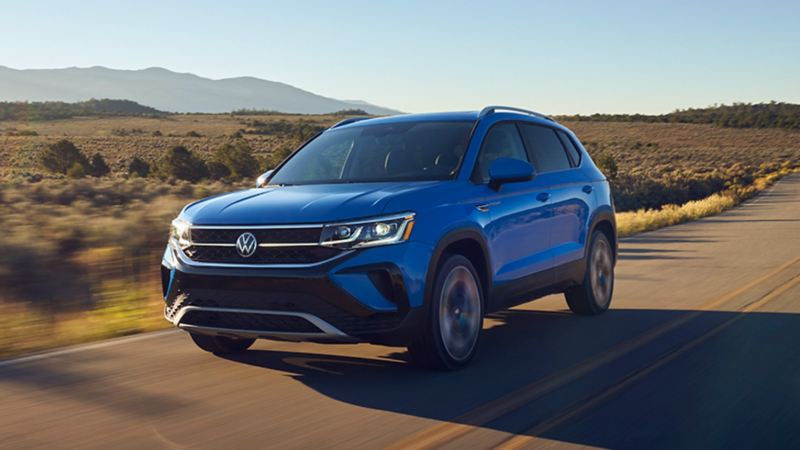 We recognize that safety is so important to our customers these days, across all segments. For that reason, we're focusing on the addition of new standard safety-enhancing features in the 2023 Taos. Front Assist and Blind Spot Monitoring⁠ are now standard on the S trim, while the SE trim now gets the full suite of IQ.DRIVE advanced driver-assistance technology,⁠ standard.
In terms of design updates on Taos, I'm excited for us to offer a super-sharp black roof option—along with black A-pillars, spoiler, and mirror caps—which will be available in the middle of the 2023 model year. Together with the black wheel package we already offer, this update will continue to set Taos apart in terms of style and design.
- 𝘔𝘪𝘬𝘦 𝘚𝘵𝘦𝘱𝘩𝘦𝘯𝘴, 𝘗𝘳𝘰𝘥𝘶𝘤𝘵 𝘗𝘭𝘢𝘯𝘯𝘦𝘳, 𝘛𝘢𝘰𝘴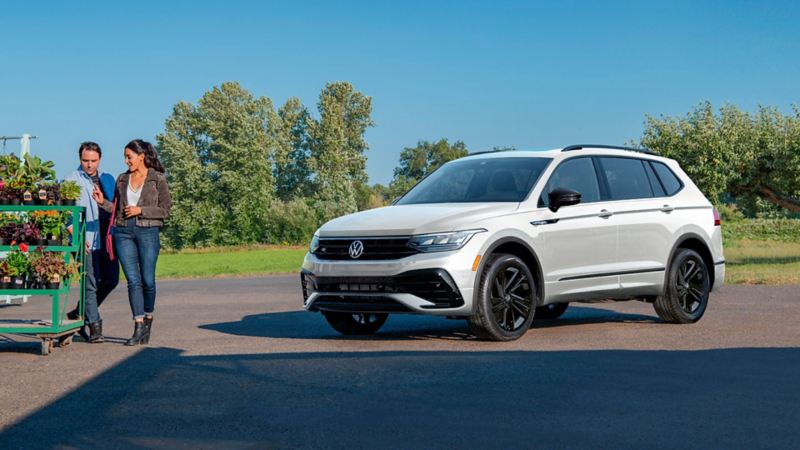 Tiguan in 2023 continues with great standard features such as heated front seats, VW Digital Cockpit, and keyless entry and start.⁠ The SE trim remains a great value, offering IQ.DRIVE advanced driver-assistance technology,⁠ wireless charging⁠ and App-Connect,⁠ power liftgate, an 8-inch infotainment screen, and more. Our top two trim levels shine with their R-Line body kits and ambient lighting. In 2023 the SE R-Line Black gets a new black wheel design. The SEL R-Line offers ventilated leather seating surfaces, puddle lights, illuminated grille, 10.25-inch VW Digital Cockpit Pro, navigation, and Fender® Premium Audio System, along with advanced driver-assistance features like Dynamic Road Sign Display, Area View,⁠ and an easy-open, easy-close liftgate.
- 𝘔𝘦𝘭𝘪𝘯𝘥𝘢 𝘎𝘰𝘥𝘦𝘤, 𝘗𝘳𝘰𝘥𝘶𝘤𝘵 𝘗𝘭𝘢𝘯𝘯𝘦𝘳, 𝘛𝘪𝘨𝘶𝘢𝘯
𝘛𝘩𝘪𝘴 𝘪𝘯𝘧𝘰𝘳𝘮𝘢𝘵𝘪𝘰𝘯 𝘢𝘯𝘥 𝘢𝘯𝘺 𝘷𝘦𝘩𝘪𝘤𝘭𝘦 𝘴𝘱𝘦𝘤𝘪𝘧𝘪𝘤𝘢𝘵𝘪𝘰𝘯𝘴 𝘢𝘳𝘦 𝘱𝘳𝘦𝘭𝘪𝘮𝘪𝘯𝘢𝘳𝘺 𝘢𝘯𝘥 𝘴𝘶𝘣𝘫𝘦𝘤𝘵 𝘵𝘰 𝘤𝘩𝘢𝘯𝘨𝘦. 
𝘐𝘋.4 𝘪𝘯𝘷𝘦𝘯𝘵𝘰𝘳𝘺 𝘢𝘯𝘥 𝘳𝘦𝘴𝘦𝘳𝘷𝘢𝘵𝘪𝘰𝘯𝘴 𝘢𝘳𝘦 𝘭𝘪𝘮𝘪𝘵𝘦𝘥. 𝘝𝘪𝘴𝘪𝘵 𝘷𝘸.𝘤𝘰𝘮/𝘪𝘥.4/𝘍𝘈𝘘  𝘧𝘰𝘳 𝘮𝘰𝘳𝘦 𝘪𝘯𝘧𝘰𝘳𝘮𝘢𝘵𝘪𝘰𝘯.