$33,260⁠
(after potential federal tax credit)
The Volkswagen ID.4 SUV is truly something to behold. On the outside, clean aerodynamic lines make for a striking presence on the road. On the inside, plenty of room makes for a spacious, comfortable cabin–it will transform how you think about electric cars. Best of all? You can reserve it right now. 
Here's how it will work:
Once you've reserved and ordered your ID.4, you'll be able to view your configuration on My ID.4 Reservation and at participating dealers.
We'll keep you posted on your ID.4 and its journey to you through My ID.4 Reservation. You can track your car as it leaves the factory, travels across the ocean to the US, and arrives at your local dealer.
Once your ID.4 is available to be picked up you'll be invited to complete your financing at your dealer.
My ID.4 Reservation and beyond
Manage your My ID.4 Reservation through our portal, where you'll find helpful information about the build process, the progress of your own vehicle, and pointers on navigating the EV lifestyle.
"The Tesla experience in a Model Y is a bit cold with the giant screen and nothing else. The ID.4…felt more welcoming…and the interior features really make it stand out." – Mashable
The buzz surrounding the ID.4 has not only been positive, it's been downright electric. Read what others are saying.
Electric now looks as good as it feels.
Clean lines and aerodynamic elements create a striking silhouette–it's an EV SUV that doesn't make you sacrifice form for function.
And with the optional Gradient package, a black roof, silver roof trim, silver accents and silver roof rails give it a bold look–with 20" wheels to complete the look.
The heart of an EV.
The function and size of an SUV
Space that's distinctly EV
The MEB platform (essentially the vehicle's underpinnings) has an elongated wheelbase and short overhangs. Plus, with the absence of a combustion engine, the interior cabin space is maximized even more.
Go ahead, spread out
The ID.4 is designed with all passengers in mind, not just the driver. With enough room for four friends, leg room in the rear of 37.6 inches, and 64.2 cu ft of cargo space with the rear seats folded down, you'll feel the difference the MEB platform makes.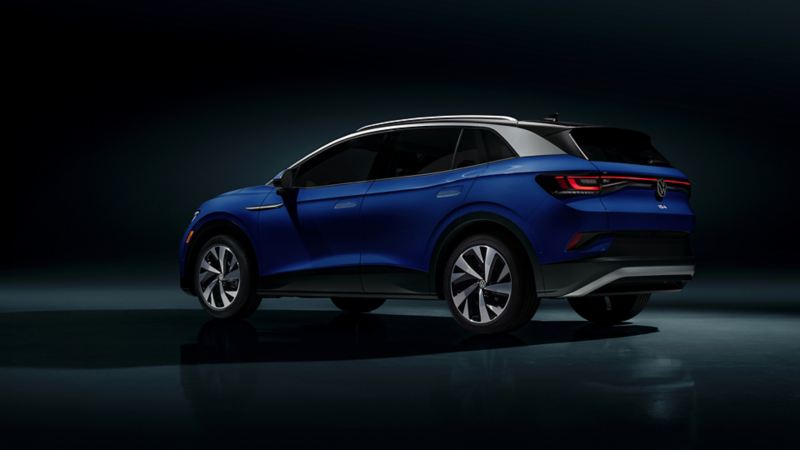 5
5.

Pre-production vehicle shown. Specifications may change.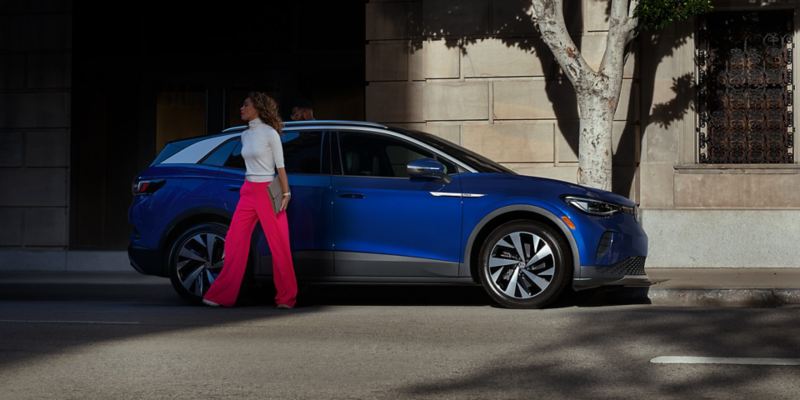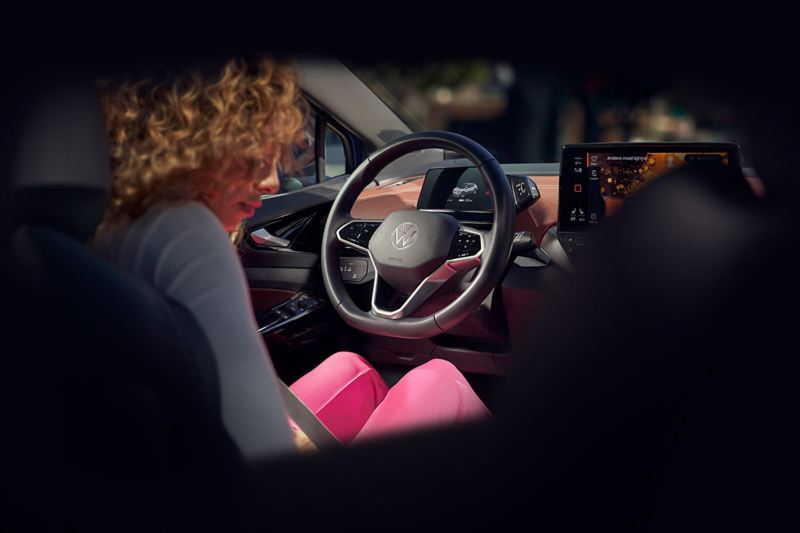 5

5.

Pre-production vehicle shown. Specifications may change.
The addition of all-wheel-drive in a typical SUV helps give the driver more traction. But the Volkswagen ID.4 electric vehicle is anything but typical. 
Available all-wheel-drive means getting a second electric motor at the front wheels–giving you quicker acceleration and intelligent handling that distributes all that power where it's needed most.
Charge your Volkswagen ID.4 electric vehicle at home with a Level 2 home charger (sold separately), offered by Electrify Home. Your VW ID.4 will include a Level 1 charging cable, but you can speed up charging with a Level 2 home charger.⁠
Electrify Home offers the HomeStation, a Level 2 home charging solution that is WiFi capable, Energy Star® certified, and owners can use one mobile app for both at-home charging and charging across the Electrify America USA high-speed network.
Let the team at Qmerit help with the HomeStation installation—Qmerit provides customized installation pricing options in three steps.⁠
Purchase your home charger and get assistance finding an installer via Qmerit at Electrify Home.
10

10.

2021 ID.4 shown. 2022 features may vary.
10

10.

2021 ID.4 shown. 2022 features may vary.
Think of the ID. Light as the way your ID.4 communicates with you. An intuitive light bar that runs across the dashboard, the ID. Light uses glowing visual and acoustic cues to telegraph incoming calls, brake warnings, charge status and more.