Restoring Annie the Beetle for Her Owner of 50 Years and Counting
Kathleen Brooks remembers buying her first new car. She was 21 years old in December of 1966 when she went to a Volkswagen dealer in Riverside, California, and left with a 1967 VW Beetle in ruby red, complete with white vinyl interior, upgraded exhaust and all of 53 horsepower. Total price: $2,300, with a loan of $28.87 per month.
Because of its red coat, Kathleen quickly named her car "Annie." Soon the miles began to accumulate, as she drove around southern California, from San Francisco to San Diego, through jobs and vacations, fun times and illnesses. With repair and upkeep as best she could, Kathleen kept Annie on the road through 350,000 miles and more.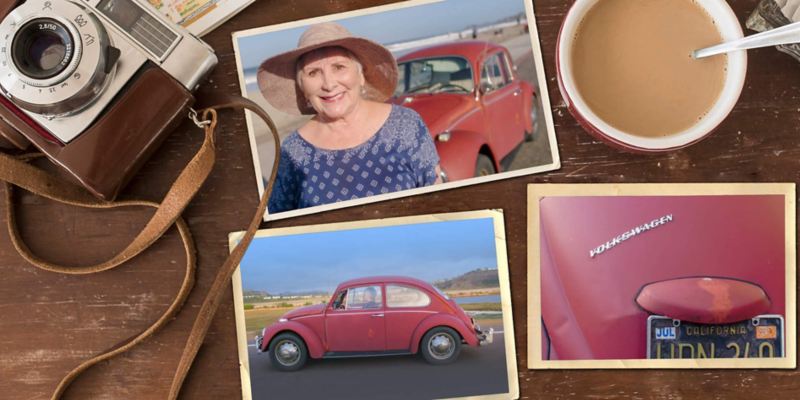 In December 2016, Kathleen called a San Diego TV station with a question. Would they be interested in a story about a woman celebrating the 50th birthday of the only car she's ever owned? They were – and so was Volkswagen.
To celebrate this special owner and her unique relationship with Annie, Volkswagen offered to restore Annie at its factory in Puebla, Mexico, where the last air-cooled Beetle was assembled in 2003. The result was more than anyone expected.
Annie's Departure
The first question you might ask Kathleen is, why did she stick with Annie for so long?
"Part of it was practical … I need transportation and she's my transportation," says Kathleen, now 73. "But as time went on, I mean — having a car 30 years, 40 years, 51 years almost! There's no way I could let her go, in any way shape or form. She's not like a part of me, she's an extension of me."
When Kathleen marked Annie's 50th birthday, the VW was showing every bit of her age and then some. Years of California sun had baked the paint into a darker, duller red. The chrome bumpers had pitted, and Kathleen was accustomed to holding her vent windows open with twine. That 350,000-mile number was something of a low estimate; Kathleen had seen the odometer roll over so many times she'd lost count.
But Annie was never a garage queen, and Kathleen herself still has miles to go every day. She works at a nearby boutique that offers prosthetics and comfort to breast-cancer patients and survivors, a place she discovered after one of her three bouts with breast cancer.
"I've had lots and lots of surgeries, lots of infections, lots of complications. Yet, I'm sitting here, and I'm so happy," Kathleen said. "And I still love life."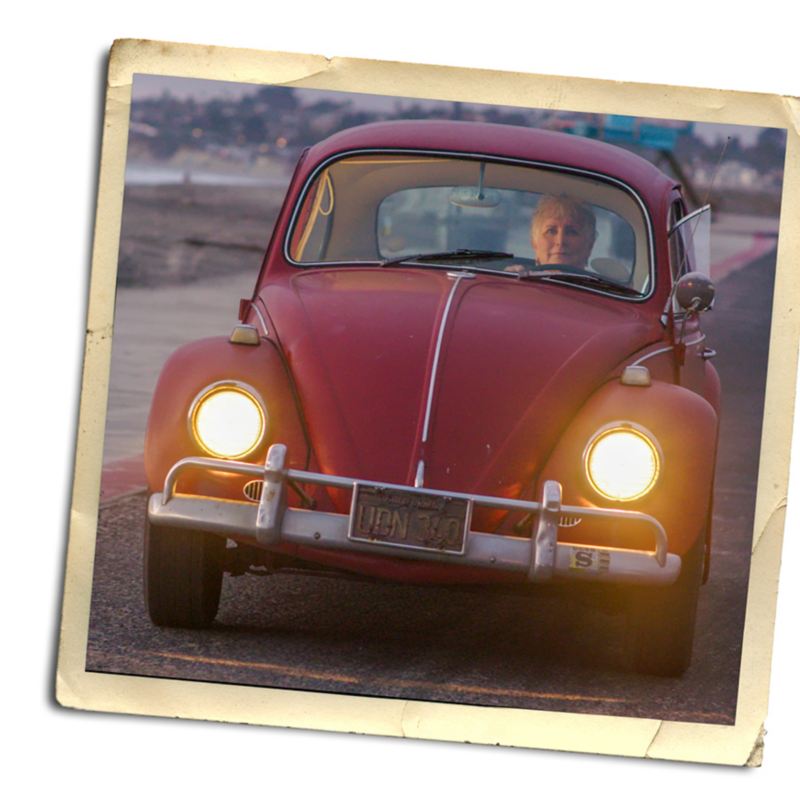 In October 2017, Kathleen allowed Volkswagen to borrow Annie for the restoration in Puebla. Before the tow truck came to haul Annie away, Kathleen wrote a letter to the people who would restore her:
"Annie reminds me a lot of myself: old, faded, rusted, dinged, and dented. Her hubcaps are horribly rusted, as they are replacements; the originals were stolen many years ago. Just like me, she's slow going uphill and runs much better in cooler weather …
I call her Annie because she's been in my life so long. She has been with me through marriage and divorce, the purchase of a house, my own business, several jobs, three bouts of breast cancer….
I can't tell you how many people stop and ask me about my car! Kids love her and many adults start a conversation with 'I used to have a Bug…' Any time someone asks me if I'd like to sell her, I say 'I'll add you to the list.' "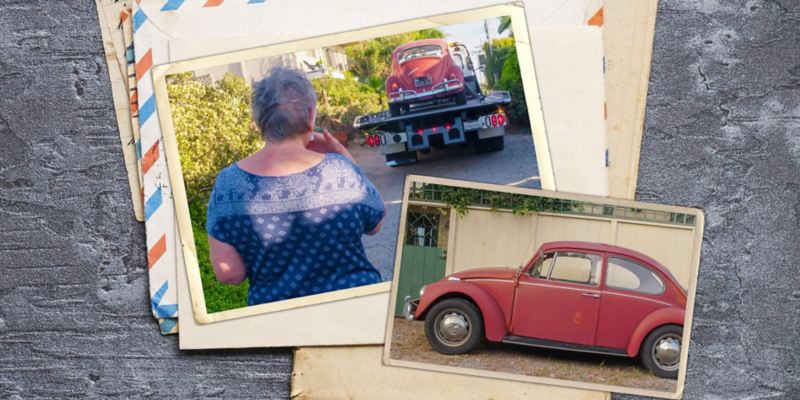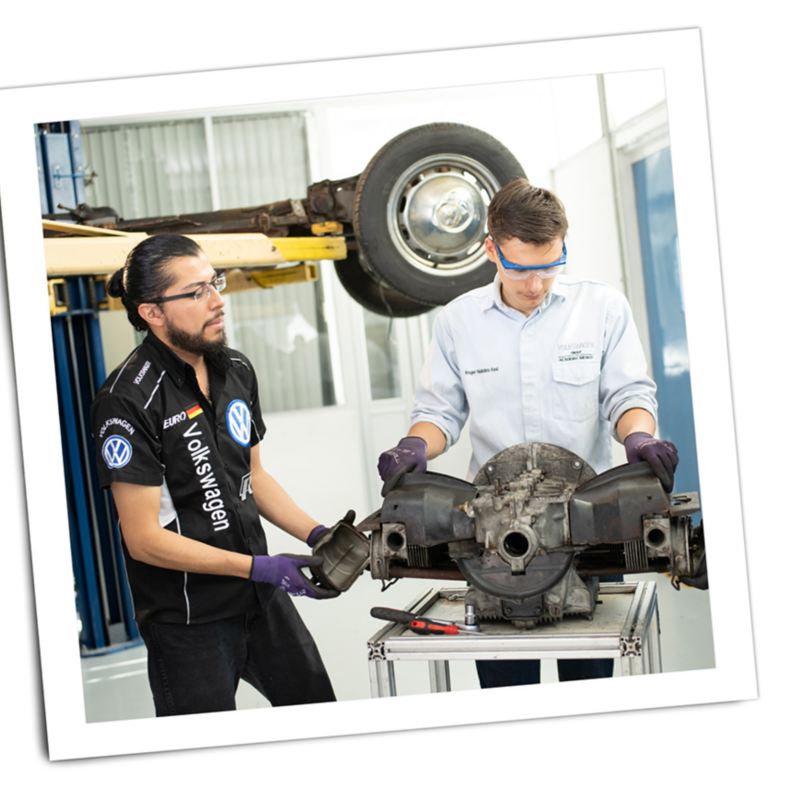 Puebla was built in 1965 to assemble the original Volkswagen Beetle for Mexico and South America. The last air-cooled Beetle in the world rolled out of Puebla in 2003, and the plant has built all modern-era Beetles, including the 2019 Final Edition. It was the natural place to bring Annie back to health.
The project found its manager in Augusto Zamudio, an engineer in the mechatronics shop. He volunteered because he restored "vochos" – the Mexican slang for VW Beetles – in his spare time. His first had been a 1967 Beetle, just like Annie.
"There may be other cars that are fancier or faster, and they will always get people's attention," Zamudio said. "But it's always a happy car, whether in Japan, or Germany, or anywhere in the world."
The team goal: make Annie roadworthy again. Not a museum piece, or a bolt-for-bolt recreation of a 1967 model, but a Beetle that Kathleen Brooks could enjoy for years to come.
Annie's Restoration in Puebla
But when Annie arrived at Puebla, the challenges of the restoration quickly began to mount. Five decades of salty air had worn down the corners of the floor pan to the point where passengers could peek through to the ground. The original engine had lost much of its power. Kathleen needed an extra cushion to cope with the original, sagging seat. A couple of parts were reinforced with wood.
Drawing on volunteers from around the factory, trainees from its apprenticeship program and the know-how of experienced assemblers, Annie's restoration team eventually grew to at least 60 people – including those who build prototypes for modern Volkswagen models.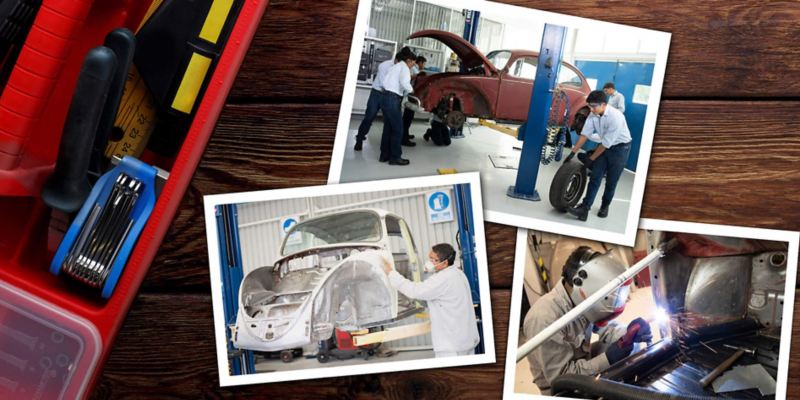 The first step was taking Annie apart, cataloging needs, and then figuring out how to address each challenge. For example, Zamudio wanted to recapture Annie's original color, but the paper tags with the factory paint color had long disintegrated, and Annie's exterior had faded to a dull maroon splotched with touch-ups. The solution: matching the color from inside the glove box, painted in the original hue and mostly untouched by time.
The 1,500-cc engine was torn down to the bolts and bare cylinder block, then cleaned and rebuilt with better-than-new parts and a power increase. Same for the brakes, replaced with the disc-brake system from later models. Replacement wheels and chrome hubcaps were sourced from a Karmann Ghia. The body was stripped, repaired and reinforced, with doors from a 1980 model.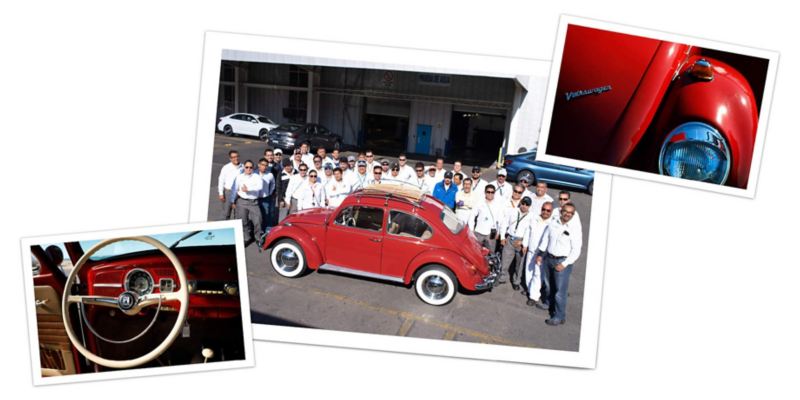 From the repaint in the state-of-the-art paint booth to sourcing new bumpers, upgraded headlights, and special touches such as a roof rack, the team eventually replaced roughly 40 percent of Annie, restoring some 357 components along the way. When the team finished, Annie went through some of the same shakedown tests used for modern Volkswagens and was given a special farewell ceremony at the factory.
All told, the restoration took 11 months.
"This car has become something special for all of us," says Augusto. "Annie is a very special car for Kathleen and also for me. I'm not the same person now. I got to build my dream car."
Annie's Return
Kathleen Brooks arrived at the beach in Encinitas, Calif., knowing only that Annie was returning. She had not seen any photos of Annie's progress since the tow truck left. During that time, she'd have the occasional bad dream that Annie was being transformed into something weird – a pickup, or a camper van wrapped in house insulation. Something not Annie.
She stood, with her back to the road, while Augusto drove up in Annie and honked twice. Kathleen turned, and for a few moments, was speechless.