1
1.

Concept

vehicle

shown. Not available for sale. Specifications may change.
The

Volkswagen

Tarok

concept

asks America if it's ready for a compact pickup revival

APRIL 18, 2019
Forty years ago, the first vehicle designed and assembled by Volkswagen entirely in America rolled out of the factory in Pennsylvania. Officially and simply called "Volkswagen Pickup," the compact truck built from the Rabbit chassis offered an economical alternative to full-size pickups in a time of fluctuating gas prices. Over five years, Volkswagen sold 77,514 Pickup models in the United States and exported several thousand more before the U.S. market shifted away from small trucks.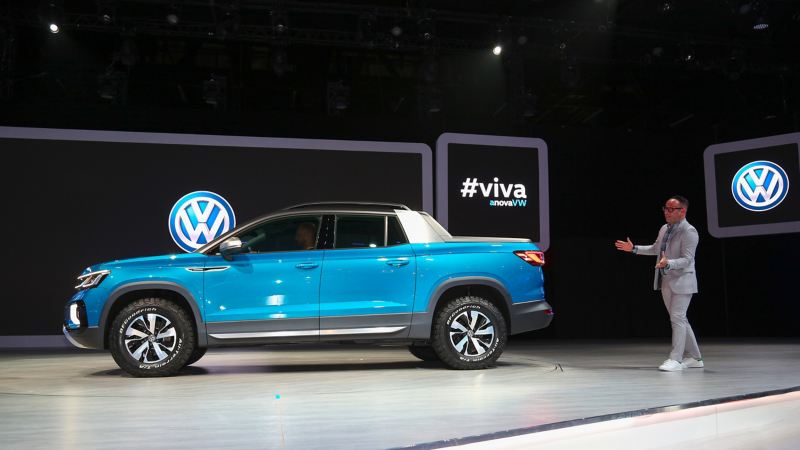 At the New York International Auto Show this year, Volkswagen brought a 21st century take on the Pickup of years past. Aside from having a bed, the Volkswagen Tarok Concept⁠ offers a far higher level of capability and refinement with seating for five, an innovative bed, and ample payload for its size. While it's not designed for American buyers, it's here to ask the question: Is America ready for a smaller pickup again?
Most pickups pair big engines with ladder-type chassis that use leaf springs, a setup great for hauling and towing (just like the westward pioneers found with their Conestoga wagons). Over the past several decades, many automakers have experimented with using a more car-like unibody chassis with a pickup bed. It's a solution that's designed to be more space- and fuel-efficient, while still offering additional load-carrying capability.
Volkswagen's first Pickups in the United States were versions of the Bus sold in single- and double-cab models in the 1950s and 1960s. Thanks to the rear-engine Bus chassis, these trucks had fantastic features including fold-down beds and a sizable storage compartment between the engine and cab. Sold mostly as commercial vehicles and never quite as popular as the Bus, these pickups fell victim to tariff rules in 1971 and are now collectors' items.
Since the Volkswagen Pickup ended production in 1984, other car-based compact pickups have disappeared from the market; the last one ended production in 2006. Yet pickups account for 16 percent of all new vehicles sold in America so far in 2019, and as they've grown in popularity, they've also grown in cost and size. Even today's "midsize" pickups are around 17 percent bigger than they were in their 1980s peak.
Those evolutions may have created space for something new like the Tarok Concept. Based on Volkswagen's versatile MQB chassis, which is shared with the Atlas and Tiguan, the Tarok is 193 inches long, or about five inches shorter than the Atlas. Yet thanks to an innovative design that allows the front wall of the pickup bed to fold down into the passenger cabin, along with the rear passenger seats, the Tarok can hold items 73 inches long.
Four decades of design advancements and the MQB chassis allows the Tarok Concept to have roughly double the payload capacity of the previous Volkswagen Pickup at 2,200 lbs – which is also at least 1,200 lbs more than the last compact pickup sold in America. With Volkswagen's sharp, modern design, nine inches of ground clearance and 4MOTION® all-wheel drive, the Tarok has the skills to match its looks when venturing off road.
As it's designed for South America and not the United States, the Tarok is powered by a 1.4-liter TSI four-cylinder engine making 148 hp and 184 lb-ft of torque, capable of running on ethanol fuel blends up to 100 percent, and mated to a six-speed automatic. But because of its flexible MQB chassis, the Tarok could easily be adapted with larger TSI engines, similar to what the Atlas and Tiguan have today.
Whether there's demand for a more versatile compact-plus-sized pickup remains to be seen. But based on the reaction to the Tarok Concept in New York, Volkswagen has the potential to make one a reality – and bring another distinctive vehicle back to American roads.