Eight of the coolest

Volkswagen

concept

cars

MARCH 22, 2022
Over the years, Volkswagen has debuted a wide range of concept cars that have opened windows into the future of car design, technology and performance. These dream machines are often built to test an idea, a vision and/or showcase features that may one day end up on the road.
Some of these groundbreaking vehicles – like the VW ID.4 EV, born from the ID. CROZZ – have made their way to the company's line-up, though many others were seen once on an auto show floor and then never again.
Why do such outlandish ideas exist at all? Each represented a unique vision of the future, and some of those visions later became real products. Through concept vehicles, Volkswagen pushes the boundaries of what's possible, and gets its customers and stakeholders thinking about what could come next.
Here's a look at eight of those interesting and influential models.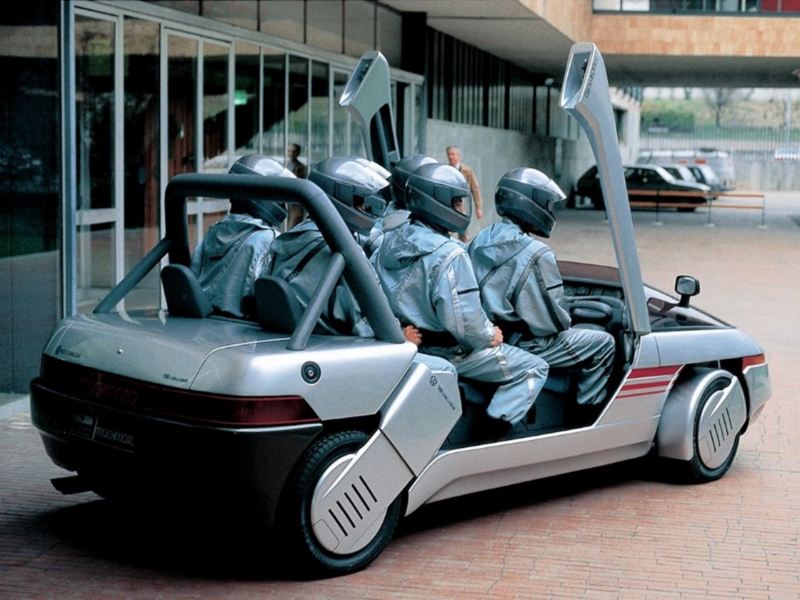 Resembling more of an amusement test car than a road vehicle, the 1986 Italdesign Machimoto was a mélange between a motorcycle, convertible and family car. Based on the Golf GTI 16V platform, the open-top roadster had a flexible seating system for six or nine passengers, using tandem motorcycle-style saddle seats. The car's steering was controlled by a special wheel that could transform from a handlebar style into a traditional steering wheel. Passengers were advised to wear a helmet while cruising in the prototype, which was powered by a Golf GTI 4-cylinder engine with roughly 139 hp. Though never put into production, the Machimoto concept was featured in several Italian movies.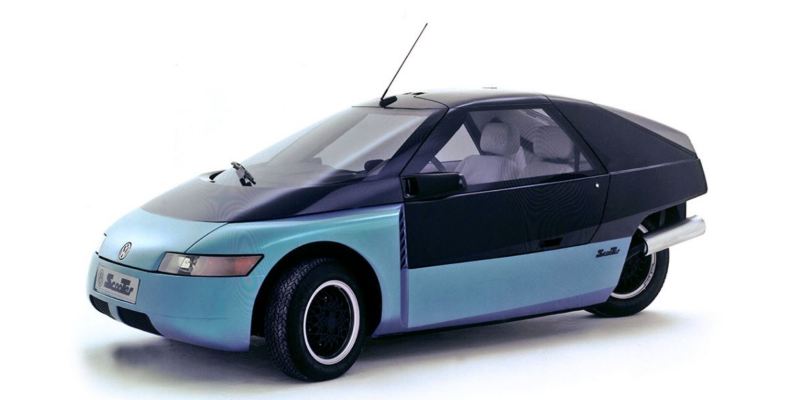 Designed for city driving, the 1986 VW Scooter concept was a nimble, three-wheel, front-wheel drive car with an engine located in the front and a two-door coupé body. The prototype was influenced by the bold styling of the 80's and featured gull-wing doors. A featherweight at just 635kg, power was delivered to its wheels via a four-speed manual box that reached 40 hp. After Scooter, Volkswagen was not done with "scooter" concepts and unveiled a pair of two-wheel scooters at the 2019 Geneva auto show exploring the concept of zero-emissions and city "micromobility."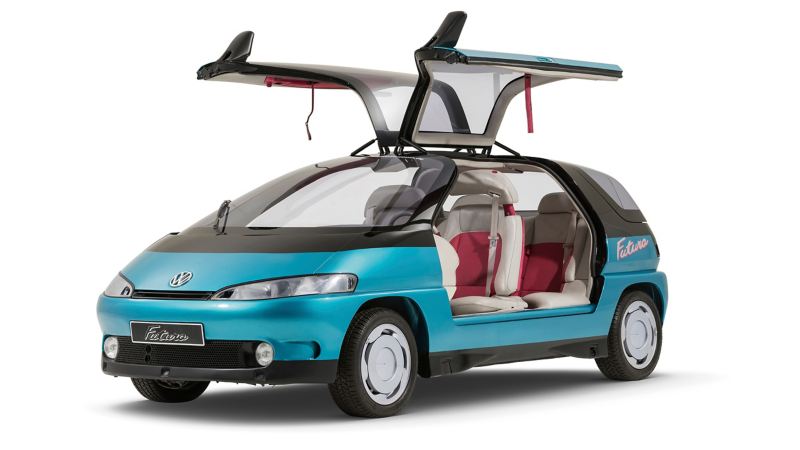 A futuristic mini-van with gullwing doors, the Volkswagen Futura was unveiled in 1989 as an IRVW (Integrated Research Volkswagen) and featured innovative technology far ahead of its time. Equipped with groundbreaking features and functions – including distance sensors, parking and braking assistance functions, a navigation system, an on-board computer, and an electric parking brake – the car received instant acclaim. The Futura featured futuristic doors that opened up, not out, and offered easy access to both the front and rear rows of seats. It had 82 hp engine, an evaporation cooling system and mechanical supercharger. While it never made it to market, elements of its original design could be seen in the production ID.3 at the 2019 Frankfurt Motor Show.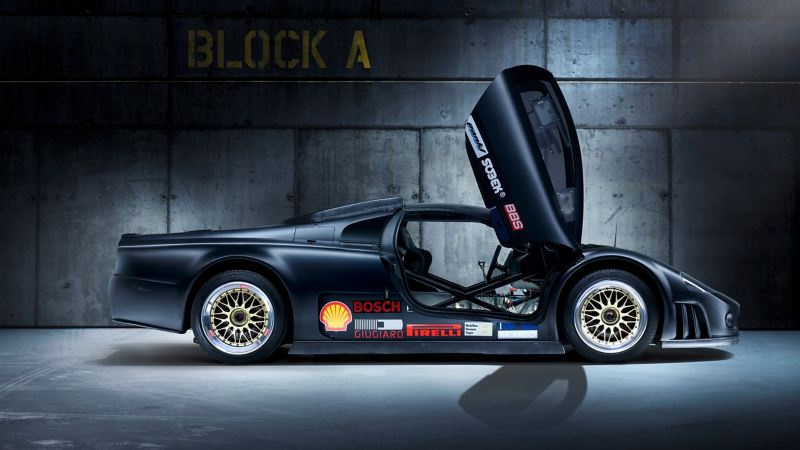 The W12 Nardo is a supercar unique to Volkswagen, designed to test a new type of engine, the W-configuration, that ended up breaking records. First introduced as the W12 in 1997, the Nardo was re-introduced in 2001 and named after the famous Nardo test track in Italy. An Italian design team was entrusted to design a vehicle to accommodate VW's Syncro 4WD system and integrate a 12-cylinder engine in a W-configuration, which had never been done before. Weighing in at 2,646 lbs., the 600 hp W12 could go from 0 to 60 mph in just 3.5 seconds. In February 2002, the W12 Nardo concept set out to break records and drove for 24 hours straight covering 4,909.8 miles—further than any other car had managed to travel in the same amount of time. The W12 Nardo never hit the production line, but it helped Volkswagen establish a new type of engine that would be used in the Passat, multiple European Volkswagen models and most notably, the Bugatti Veyron.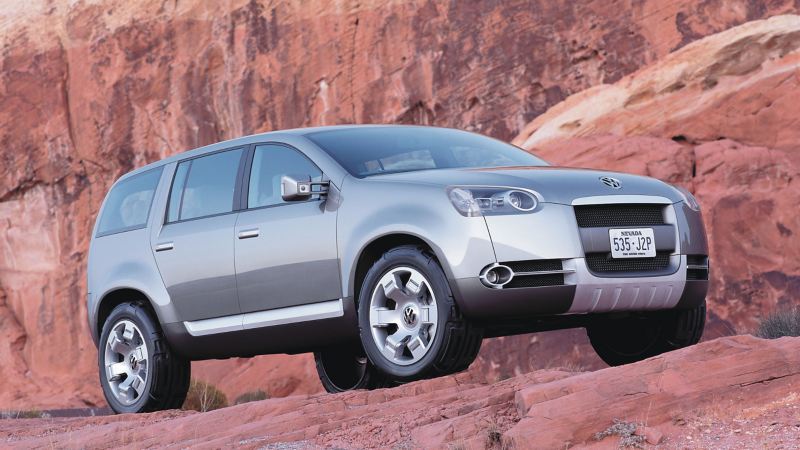 Designed for the outdoor enthusiast, the Magellan was part car, part SUV and part truck. Created by Volkswagen's Design Center in Spain in 2002, the Magellan concept was revealed around the same time the first Touareg hit market. The all-wheel drive concept had 19-inch wheels and an air suspension. Its spacious interior could comfortably hold six passengers with three rows of two seats in a 2+2+2 layout built on monorail frames. Named in the spirit of the great explorers before it, the rugged, one-off, oddball car's notable features included a removable navigation system, dubbed "G.P.S. to Go," that could be used outside the vehicle for biking and hiking.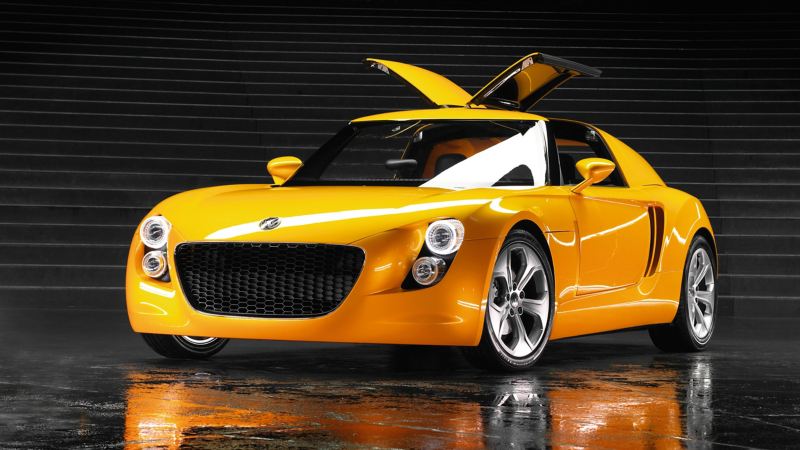 Built in 2005, the featherlight EcoRacer diesel sports car concept checked multiple boxes – coupe, convertible and speedster— in a quest to be the most economical sports car of all time. Debuting at the 2005 Tokyo Motor Show, EcoRacer was a unique looking vehicle with a carbon fiber body and a powerful diesel engine mounted in the middle of the frame that could reach 136 hp and 62 mph in 6.3 seconds, with a top speed of 142 mph. The roof of the EcoRacer was its most unique feature—the driver could transform the EcoRacer from a coupe into a convertible by removing the hard top and then convert it to a speedster by removing the windscreen and frame. With the EcoRacer, the intention was rather to create a research vehicle that united the elements of economy and performance under a styled "roof."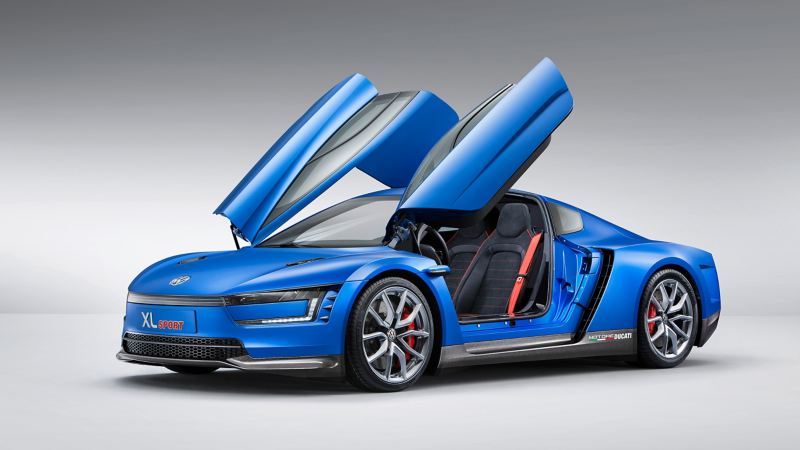 A supercar built for enthusiasts of the eco-minded XL1, the 2014 XL Sport was a hyper-efficient sports car designed specifically for speed. Propelled by the world's most powerful two-cylinder engine, the two-seat coupe could go from 0 to 62 mph in roughly 5.7 seconds. Its wing doors were reminiscent of those of a high-end sports car and hinged at two points, allowing for both an upward and forward swivel. The XL Sport boasts a characteristic dashboard specially designed for motorsports, with an individual lap time and oil pressure display.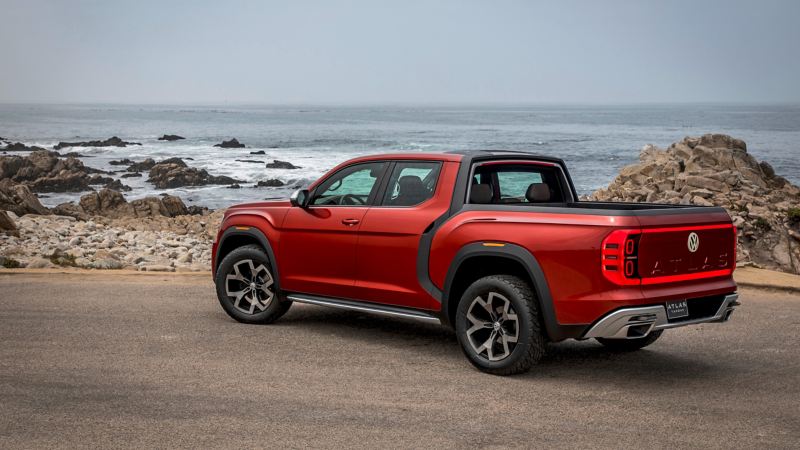 Having hinted for years at bringing a pickup to the U.S. market, the rugged Atlas Tanoak finally debuted at the New York International Auto Show in March 2018. The midsize, dual-cab pickup truck was powered by an efficient V6 petrol engine and was the world's first pickup to be based on the ubiquitous modular transverse toolkit (MQB).  Named after a species of evergreens native to the California coastline, the car boasted 276 hp, 266 lbs.-ft. of torque, eight-speed automatic and 4MOTION all-wheel-drive system. It was based on an extended-wheelbase Atlas SUV, only longer, and could seat up to five passengers.