Inside Chattanooga's Battery Engineering Lab

Sep 22, 2022
5 minute read
He had no way of knowing this at the time, but in 2018, Volkswagen's Electrical Engineering Specialist Charles Abend became an integral part of creating a unique solution to what would help address one of the auto industry's biggest challenges: developing and testing EV batteries here in the U.S., enabled by Volkswagen's Battery Engineering Lab (BEL).   
Until recently, producing and testing EV batteries has required a mosaic of contributions from multiple countries around the globe for many automotive manufacturers. In a time when EVs are beginning to boom in popularity the BEL's launch in Chattanooga, Tenn., in June 2022, was perfectly timed to help Volkswagen ramp up testing and research of EV batteries as its U.S. assembly of EVs goes into full swing.
While working on a project in England, Abend got a call from his future director asking how Volkswagen could create over 100 unique individual tests to evaluate electric vehicle batteries. Looking over the extensive list, Abend responded, "you're going to need a building."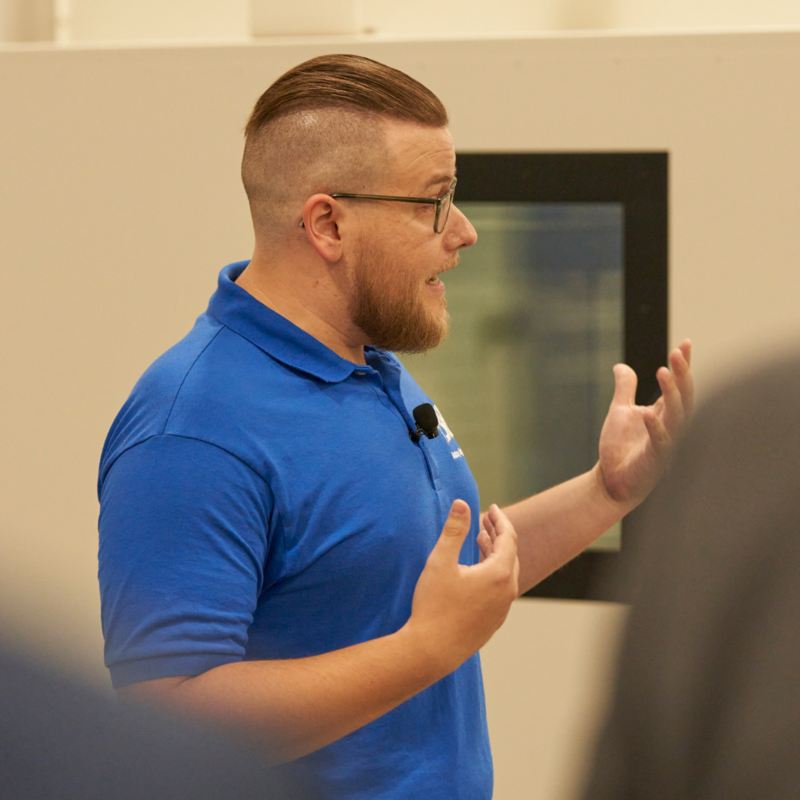 Designing a Lab Fit for the Industry's Future
In November 2020, Volkswagen Chattanooga broke ground on BEL as the plant looked to give its team of engineers more control over quality assurance of its batteries.
"When we went about designing this lab, we looked at Volkswagen's facilities in Germany and China. We pieced together all their lessons learned, things that they wish they had, things that they are glad they didn't have, things they like to outsource, things they wanted to bring in-house—and we designed this lab off the best practices of our global lab network."


Charles Abend
Volkswagen Electrical Engineering Specialist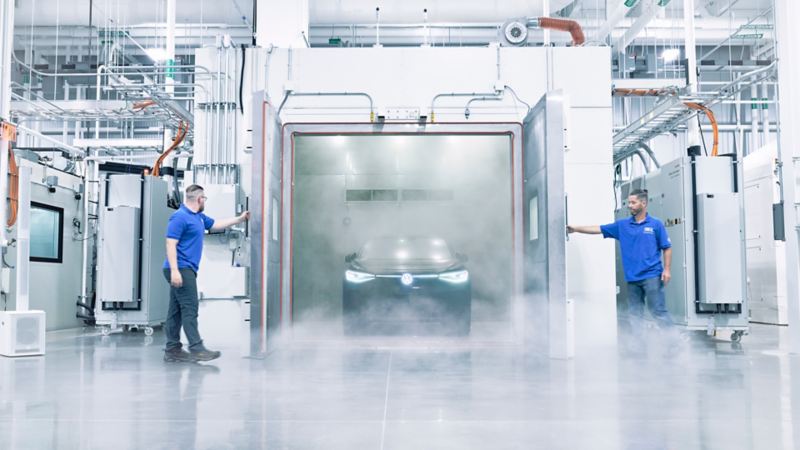 Two years later, the critical battery expertise—and testing capabilities—VW needs is now available in-house, making the process of testing and optimizing batteries for EVs more accessible than ever. Already within its first months of being operational, Abend and HV Battery Test Analyst Jefferson Drumm are seeing a remarkable difference in test performance.
"Before we had the lab, we had to outsource a lot of these tests," Drumm said. "Now we've very carefully designed all of our test benches and our climate chambers to speed up where we saw bottlenecks. What used to take us 20 days when outsourced to another lab now takes us only three days in house."
Testing to Optimize Performance, Range and Safety


In the coming years, the BEL will play an instrumental part in helping to ensure Volkswagen EV batteries meet durability and safety standards, even as they work on optimizing performance and range for future EVs. Over the course of one year, Drumm said, the team runs thousands of individual electrical, mechanical, climate, immersion and vibration tests, simulating the most extreme conditions to ensure EV batteries hold up.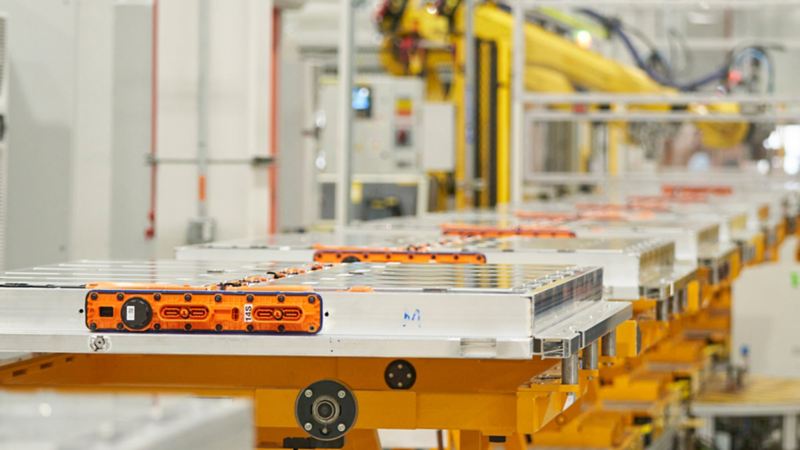 These tests range from strapping the battery to an acceleration sled that resembles launching a rocket down a rollercoaster, putting 35 G's on the battery within six milliseconds, to simulating 9000 miles of driving in seven days on rough terrains and extreme temperatures. These tests measure situations that go beyond the conditions that drivers will experience, but to ensure the batteries meet the demands of Volkswagen quality, they must pass extremely high benchmarks. In fact, the BEL recently added a test that's a notably aggressive corrosion specification – the only such test bench on this half of the earth that can run the Volkswagen spec. With each test, the team at the BEL is actively working to continue improving batteries, using the data gathered to figure out ways to effectively help them perform better and better. Additionally, these tests are also in place to ensure the batteries can last a long time, that they can weather different environments and climates and that they are safe.
Keeping Safety and Sustainability Top of Mind with Every EV


Attention to performance and safety has become a staple among Volkswagen's electric vehicles. In fact, the 2022 ID.4, is rated by the Insurance Institute for Highway Safety as one of the safest EVs on the road.⁠ That same determination to protect drivers and keep them safe has shaped the tests performed at BEL.
 "We take this testing extremely seriously. It is our goal to make sure that when we release a battery pack, it's the safest possible battery to power those vehicles and do that for a long time without any sort of incidents," said Abend.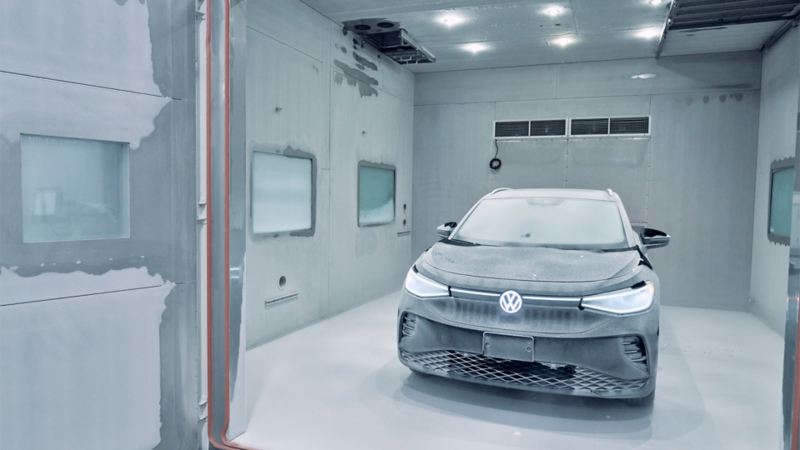 Additionally, Volkswagen's team at the BEL is working with Redwood Materials to ensure that not only are the batteries safe for drivers, but that the processes to create and test batteries keep sustainability in mind. Redwood recycles over 6 GWh of lithium-ion batteries each year, which is the equivalent of 60,000 EV batteries. With this collaboration, Volkswagen is looking to recycle all the test modules, crating, housings and battery packs, which will help create a more sustainable model that can fuel the growing demand for EVs across the country.  
The BEL in Chattanooga, Tennessee exemplifies how battery testing and research can help establish a closed-loop battery supply chain and EV assembly system here in the U.S. While testing current EV batteries, the team at the BEL in Chattanooga is constantly looking ahead to continue improving battery capabilities with innovative technologies that will aid in making EVs more accessible and durable, with the longest range possible. With its $7.1 billion commitment, Volkswagen intends for EVs to make up the majority (55%) of its U.S. sales by the year 2030. The work being done at the BEL is a critical part of Volkswagen's larger electrification goal for the U.S.