Seven Road Trips to take in your

Volkswagen

for Mental Bliss 
Today marks the beginning of Mental Health Awareness Month, and in an effort to promote awareness and offer support, we are sharing a self-care strategy we know a thing or two about:  scenic drives. Whether it's in an RV with the family, or in a sleek convertible with the top down, road trips are a longstanding American tradition. But what you may not know is how effectively a scenic drive can help improve one's mental health.  
According to the University of Minnesota's Bakken Center for Spirituality and Healing, "Being in nature, or even viewing scenes of nature, reduces anger, fear, and stress and increases pleasant feelings. Exposure to nature not only makes you feel better emotionally, it contributes to your physical wellbeing, reducing blood pressure, heart rate, muscle tension, and the production of stress hormones. It may even reduce mortality, according to some scientists, such as public health researchers Stamatakis and Mitchell."
Driving is a fun, easy, and affordable way to see the many gems of nature that the United States has to offer. In order to view these natural wonders more sustainably, cars like our all-electric ID.4 SUV, with zero direct emissions, will allow you to enjoy the mental wellness with added consciousness to our planet.
Dr. Lisa Nisbet, a psychologist at Trent University in Ontario, Canada, said, "Stress reduction and attention restoration are related," while Dr. Marc Berman, a psychologist at the University of Chicago, performed a study that found that green spaces near schools promote cognitive development in children and green spaces near their homes promotes self-control behaviors.⁠ Both doctors' findings suggest that nature improves overall cognition, which should only serve as your reminder to go explore the outdoors.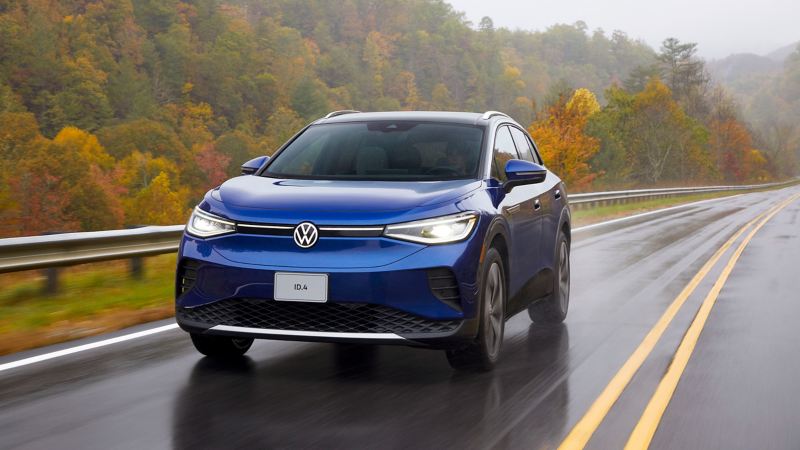 Here are 7 incredible scenic drives you can take within the United States. 
What could be more iconic scenery for a road trip than New England in Autumn? And what better place to take in the spectacular change of seasons than New Hampshire's amazing Kancamagus Scenic Byway? Besides the incredible views and luscious colors on display during the fall, the most impressive part of the Byway may be its solitude. Throughout the 34.5-mile journey, you may see almost no sign of civilization. Every establishment has been pushed to either end of the drive, which means that the distractions of the modern world won't interfere with your mental relaxation.
Moving south to New York State, you will find the Catskill Mountains Scenic Byway. The 52-mile-long road lies just under two hours north of New York City and provides a terrific setting for decompressing from the rigors and stresses of city life. The byway runs through two hamlets, two villages and four towns, offering a variety of opportunities to connect with the local culture. The Atlas would be a good option to take here, since you'll likely need ample cargo space to bring home all the unique trinkets, gifts and food you'll no doubt pick up along the way. Part of New York's Route 28, the byway is open 365 days a year giving you a virtually limitless supply of new experiences, all of which can benefit your mental health.

Continuing our journey south, there is Gatlinburg, TN, home of the most iconic way to see the Great Smoky Mountains. Newfound Gap Road is 30.3 miles long and climbs nearly 4,000 feet from beginning to end. Its one-of-a-kind views showcase the rolling slopes of one of America's most cherished national parks. We recommend enjoying the climb in our Atlas Cross Sport, which will give you all the power you need to make the climb. Driving up to Newfound Gap, there are no less than four stunning overlooks that exhibit the beauty and healing wonders of the Tennessee and North Carolina wilderness. If that's not enough, President Franklin D. Roosevelt dedicated the entire park in 1940 to "the happiness of the American people".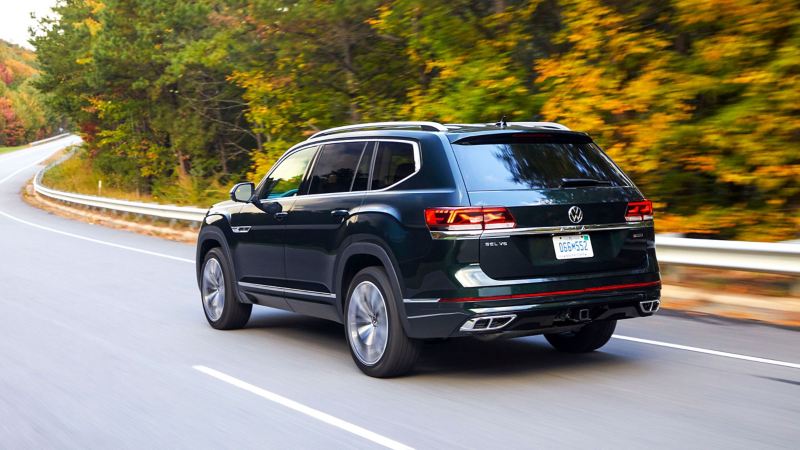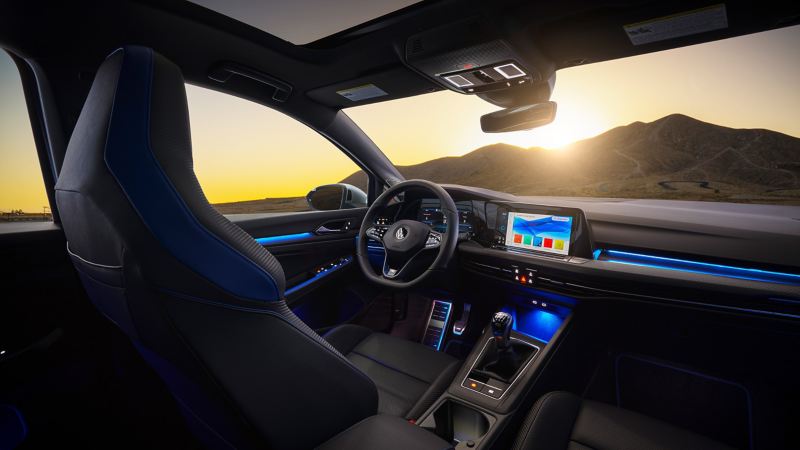 Some things are famous for a reason. For example, America's greatest natural wonder, the Grand Canyon. Without a doubt, the Grand Canyon is a natural marvel that will soothe even the weariest soul, but this national landmark is not the only thing to see. We recommend you take the Taos on this trip, as it's named for a small town in nearby New Mexico. Throughout the area, there are several roads that can take you to incredible landscapes, such as the Desert View Drive. A 23-mile road along the canyon rim, Desert View Drive offers six distinct viewpoints and follows the path of the Colorado River as it winds through the Canyon. 

California is called The Golden Coast for more than just its gold rush history. And while the coastal beaches are well-known for their beauty, inland California has many natural riches as well. To find them, we recommend taking the Rim of the World Byway, which goes from Cajon Pass, due east from San Diego to Big Bear Lake, stretching 110 miles. As the name might suggest, the views on this road in a Volkswagen are simply beyond. We recommend taking this drive in the ID.4 EV, since you'll want to emphasize more sustainability with zero direct emissions on your journey through the Californian forest. It may be too long to do in a single stretch (the part from San Bernardino to Big Bear is just 35.7 miles and is more palatable for one sitting) but driving through California's Inland Empire will give you views of this country you did not know existed.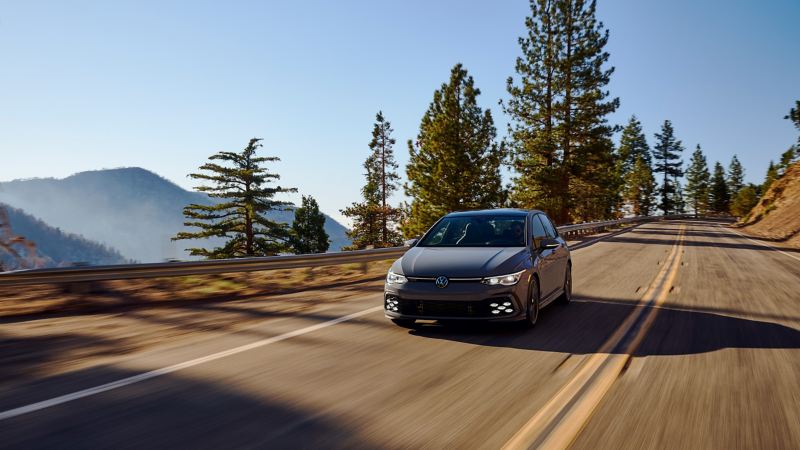 What is more synonymous with road tripping than a cruise up the California coast?  The Big Sur Coast Highway, the most iconic stretch of Route 1, is known as the eternally stunning Pacific Coast Highway. This route is a four-hour journey that takes you to Big Sur from San Francisco. In between those two points is a scenic drive along the Pacific Ocean that simply defies description. We recommend doing this drive in the Arteon, for cruising along the coast in comfort. It is recommended that it be broken up in segments for breaks (do not worry, there's establishments all along the highway), but taking this trip is something you will never forget.

Last, but certainly not least, is Historic Route 66, which follows the path of the most famous interstate road – one of the world's most well-known ribbons of pavement. The original Route 66 stretched all the way from Chicago, Illinois to Los Angeles, California, clocking in at a total length of 2,448 miles. Though the "Mother Road" has been phased out over the years, as the U.S. Interstate System made the need for the first all-weather highway in America obsolete, the road's massive historical significance motivated many of the states that contained parts of Route 66 to preserve and incorporate them into their own intrastate networks. Route 66 lives on in Americana as a reminder of simpler times, and driving along it, witnessing pockets of American history, will transport you to those times. As for driving along it, you could use any of our vehicles. Just know that you'll be getting out of the car often to take in ample doses of Americana.