Meet the

Volkswagen

ID.4: Finally, an

electric

SUV for you

March 22, 2022
Americans' embrace of the SUV has reached the point where just under half of all vehicles sold new in the United States are some kind of SUV. Meanwhile, despite all the potential benefits of electric vehicles, their costs and lack of choice or availability have kept their numbers low – just over 1 percent of new sales.
On September, 23, 2020, Volkswagen unveiled the SUV that's meant to bring electric vehicles to the mainstream – the ID.4 electric SUV. It has ample battery range and recharging capability for everyday use, with three years of charging at Electrify America public chargers at no additional cost⁠ . It has the space, utility and technology that compact SUV buyers want at a price that's fully competitive with the segment. The ID.4 is produced at the Zwickau factory in Germany now, but starting in 2022, production will come to the Chattanooga, TN assembly plant.
It also looks like nothing else on the road. And you can can sign up for yours today
The ID.4 is another step toward the Volkswagen Group global goal to meet the targets of the Paris Agreement combatting global warming by making its business and its vehicles carbon neutral by 2050. According to experts, such goals can't be met without widespread adoption of electric vehicles, and the ID.4 demonstrates how Volkswagen plans to make EVs for the real world.
"The ID.4 was engineered, loaded and priced to win the hearts of SUV owners who are simply ready to go electric—and fall in love with Volkswagen again," said Scott Keogh, CEO, Volkswagen Group of America. "It drives like a GTI, it has the packaging of a Tiguan and the purpose of the Beetle. All the best things about VW in one package."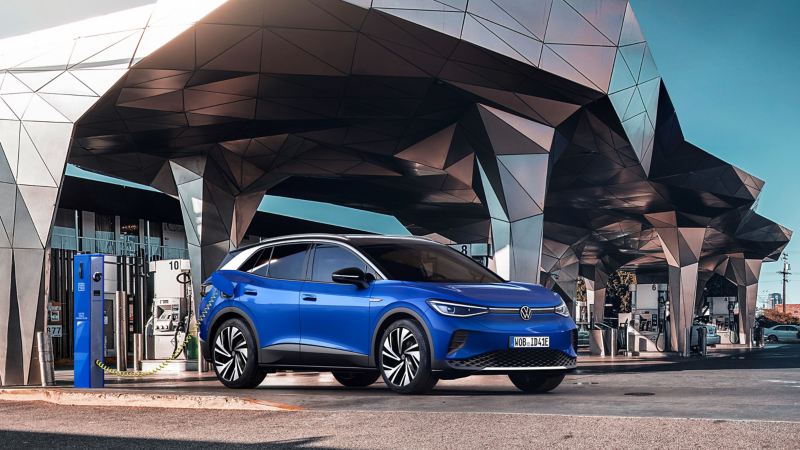 The ID.4 can be reserved today, featuring a 201-hp motor powering the rear wheels – just like the original Beetle. The 2022 ID.4 Pro, with 82-kWh battery pack, has an EPA-estimated range of 275 miles⁠, a little bit less than what the average American drives in a week. A full recharge of the ID.4 from a typical Level 2 outlet, like those commonly installed at home or in public parking, will take around 7 ½ hours; the 11 kw onboard charger adds about 33 miles of range per hour of Level 2 charging.⁠
Using public DC fast chargers typically found at highway rest stops, the ID.4 can go from 5 to 80 percent charge in about 40 minutes.⁠ Buyers of the 2021 ID.4 will get three years of unlimited charging on Electrify America network at no additional cost, covering more than 470 charging stations and over 2,000 public DC fast chargers nationwide.⁠
In 2021, the ID.4 added an all-wheel-drive version with an electric motor on the front axle and total power of about 300 hp. In 2022, Volkswagen will begin assembling the ID.4 in Chattanooga, Tenn., and plans on offering a localized version of the ID.4 with an anticipated MSRP around of $35,000.⁠
The benefits of electric driving start with the dimensions of the ID.4. It's the first vehicle for America built off the Volkswagen MEB platform, designed exclusively for electric vehicles. That platform gives the ID.4 agile handling, with the battery pack in the floor and even front/rear weight balance. And when you hit the accelerator, the ID.4 produces 228 lb.-ft. of torque instantly, giving it great off-the-line performance.
The design of the ID.4 combines a futuristic, aerodynamic look with some classic Volkswagen touches. The Volkswagen logo sits in the center, as it did on the Beetle's hood; unlike the Beetle, the logo can come as an LED lighted option. The LED headlights, taillights and an optional front illuminated light line and Volkswagen logo create a new, distinct signature, while the cleanly formed bodywork gives the ID.4 a strong visual presence, along with a low drag coefficient of 0.28.
The ID.4 comes in one of six colors, with 19-inch alloy wheels standard. The two available packages – Statement and Gradient – add upgrades such as a panoramic fixed-glass roof, power folding side mirrors and 20-inch wheels.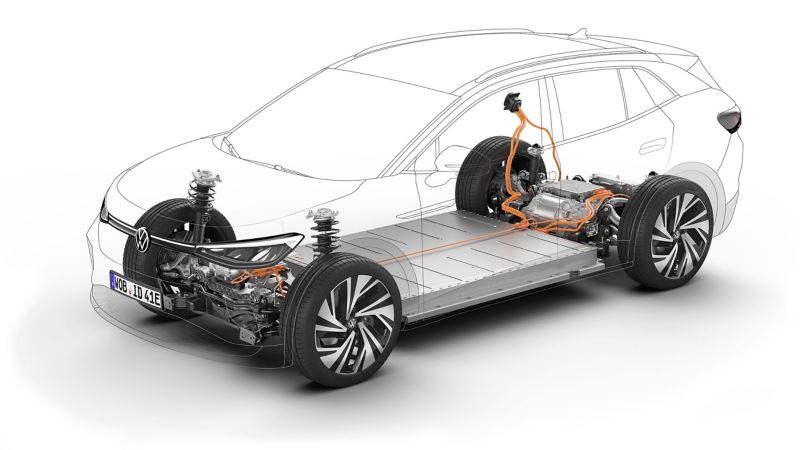 Volkswagen

ID.4 Electric SUV
On the inside, the ID.4 offers the most advanced interior of any Volkswagen ever. The standard heated leather-wrapped steering wheel has touch controls and sits in front of a 5.3-inch digital cockpit. In the center dash sits a larger infotainment display – a 10-inch Discover Pro comes standard, and a 12-inch Discover Pro Max is available – with wireless App-Connect⁠ and available in-car WiFi.⁠
As EV components take up less space – the electric motor of the ID.4 can fit in a duffle bag – the ID.4 can offer nearly as much passenger volume as the Tiguan in a vehicle that's 4.6 inches shorter. Legroom is a comfortable 41.1 inches for front passengers and 37.6 inches in the rear seat. Cargo volume is 30.3 cubic feet behind the second row, and 64.2 cubic feet with the seats folded.
Another new feature is ID.Light, a light strip below the windshield that provides feedback to drivers in different colors. It can signal when the drive system is active, if the car has been unlocked or locked, and feedback from driver's assistance systems. The "Hello ID." voice control system also debuts in the car, allowing drivers and passengers the ability to use voice commands in everyday language.
The ID.4 features a full complement of safety systems, such as six airbags and Electronic Stability Control.⁠ An aluminum frame helps protect the battery in event of a crash, with a replaceable underbody aluminum shield defending against road hazards. There's also a suite of driver-assistance technology known as IQ.DRIVE standard for all ID.4 models, which includes Forward Collision Warning and Autonomous Emergency Braking with Pedestrian Monitoring (Front Assist); Blind Spot Monitor (Side Assist); Rear Traffic Alert; Adaptive Cruise Control (ACC); Lane Keeping System (Lane Assist); Travel Assist; and Emergency Assist8. In addition to IQ.DRIVE features, all ID.4 models include Dynamic Road Sign Display; Park Distance Control; and High Beam Control (Light Assist).⁠
EVs won't make an impact unless they are affordable, and here the ID.4 shines. Prices for the 2022 ID.4 start at $40,760 for the ID.4 Pro rear-wheel-drive model.
The 2022 ID.4 AWD Pro ($44,440)  carries the same equipment as the rear-wheel drive model. Both can be additionally outfitted with two packages – Statement ($4,500), and Gradient ($1,500), which is only offered with Statement.
Many EVs in America are only sold in a handful of states, or not through traditional dealerships. The ID.4 is offered nationwide, throughout Volkswagen's network of more than 600 dealers. Interested customers can reserve their ID.4 with a fully refundable $100 reservation fee. 
To begin meeting the goal of carbon neutral business, Volkswagen analyzed tens of thousands of processes at the factory in Zwickau, Germany, from raw materials to final assembly. The plant and some suppliers now use renewable electricity sources, and Volkswagen has taken other steps to try to cut carbon emissions. For those emissions that can't be avoided, Volkswagen plans to use offsets via certified carbon credits for a variety of projects in Asia and South America.
It adds up to a new type of vehicle for American roads. This much space, at this price point, for an EV that's available nationwide – this is just the beginning of a new chapter for Volkswagen.
This information and any vehicle specifications are preliminary and subject to change. Features and technical data apply to models offered in the USA. They may differ in other countries.