Eliciting Emotional Reactions: How

Volkswagen

Colors its Cars
APRIL 26, 2022
3 minute read
APRIL 26, 2022
3 minute read
Volkswagen takes joy seriously. And the vehicle design element most likely to elicit immediate joy according to a recent study? The color.⁠ This is one reason why Volkswagen has produced vehicles in iconic colors throughout its history. From limited editions like the 2017 #PinkBeetle to the classic "Ceylon Beige" VW Bus, Volkswagen colors have been spreading joy around the world for decades.
The process of selecting a color palette for Volkswagen vehicles begins with research. In order to develop the unique color schemes, Volkswagen goes straight to the source: As "the people's car," it is essential that consumer input be part of the decision-making process. The research team at Volkswagen designs a series of questions to gather data from consumers and auto-enthusiasts on color preferences, as well as how color impacts emotional response. Other common areas of inspiration include trends in clothing, interior design, cosmetics and architecture.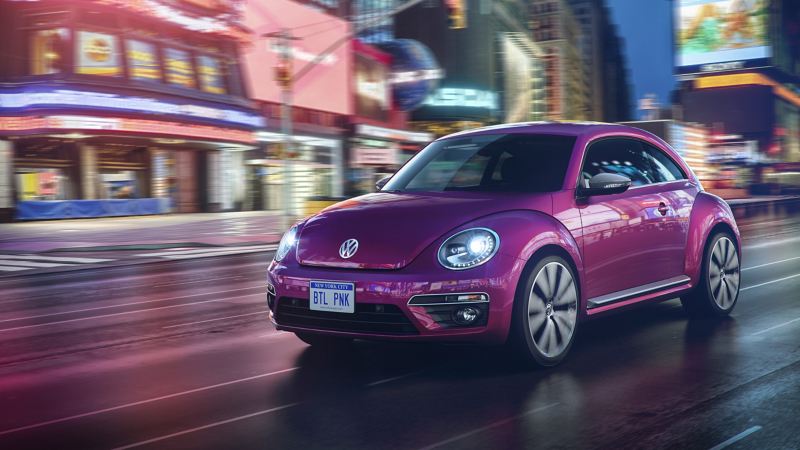 Megan Closset, Volkswagen of America product manager for the Golf GTI and Golf R, explained the intriguing strategy behind the bold colors: "When someone sees this color, they're either going to absolutely love it or absolutely hate it. That's what [we're going for]."
Volkswagen designers employ their psychological research and customer feedback to create completely unique shades and colors, produced to elicit very specific emotions in customers. For example, the primary color on the VW ID.4 EV, Dusk Blue, is a slightly lighter shade than the average dark blue and was selected to help induce feelings of serenity, calm, and security. The "Sandstorm Yellow" 2016 Beetle Dune has a much more golden hue than the standard yellow, evoking richness and warmth.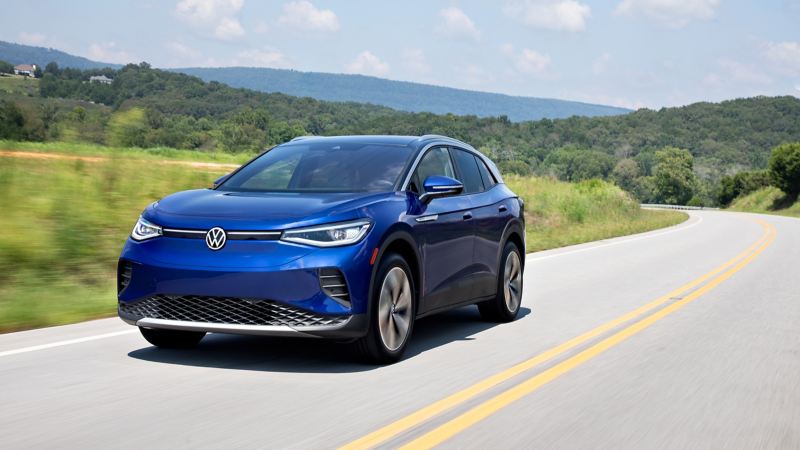 A distinct color deserves a distinct name. Volkswagen brings the same level of care to the naming of colors, as it does to the creation. Designers think deeply about what sort of image the name will conjure up. Will the name elicit joy? Will the name feel as unique as the colors?
Take "Pomelo Yellow," a popular color for the 2022 Golf GTI, for instance. The citrus color reminded designers of the pomelo fruit, an ancestor of the grapefruit. Even if consumers are not familiar with the pomelo, the unique name can spark curiosity and a sense of fun. "Great Falls Green Metallic," previously seen on the Golf Alltrack and Golf GTI, was named with U.S. National Parks in mind. This natural shade of green is a double-entendre, paying homage to Great Falls, Montana and the Great Falls community, which sits not too far from the Volkswagen of America headquarters in Herndon, Virginia.
Volkswagen cars are iconic, in part, because the color palettes are selected carefully for each model. Besides the target customer, designers consider a vehicle's overall character. For that reason, the ID. Buzz, Volkswagen's latest all-new electric vehicle to be announced, includes some particularly fun color options. Expected to be available in European markets later this year, the line-up includes eye-catching colors such as "Starlight Blue," "Bay Leaf Green," and "Energetic Orange." In total, there will be eleven color variants — seven single-color options and four two-tone options. 
In offering so many bold and bright colors, Volkswagen provides consumers the opportunity to select a vehicle that is as unique as they are.