How sheep and solar power work together at the

Volkswagen

Chattanooga factory
How sheep and solar power work together at the

Volkswagen

Chattanooga factory
Volkswagen Chattanooga has been creating jobs in the region for over a decade, with more than 4,000 workers there today. Recently, that workforce has also grown to include some non-human coworkers – a herd of about 50 sheep – who are essential to Chattanooga's solar operations.
Volkswagen's solar park, built in 2013, at the Chattanooga facility is one of the largest such facilities at a U.S. auto plant. The 9.5-megawatt solar system provides up to 12.5 percent of the plant's electric needs during full production, with 33,600 solar modules spread over 33 acres next to the VW factory.
Nashville-based Silicon Ranch Corp. manages the Volkswagen solar farm in addition to other regenerative energy projects across the country. Currently, Silicon Ranch Corp. has about 6,000 of 11,000 acres nationwide beneath its solar panels used as grazing land for sheep—or what it calls "regenerative management."
"Adaptive grazing with sheep is an efficient and cost-effective way to control vegetation and minimize erosion risks on utility scale solar facilities," said Loran Shallenberger, Silicon Ranch Regenerative Energy Project Manager.
"The sheep keep the grasses low via grazing and trampling and the solar panels provide sheep with shade, minimizing heat stress in the height of summer. Regeneratively grazing sheep can help provide  important ecological benefits, as well as a secondary and stable source of income for our farming partner."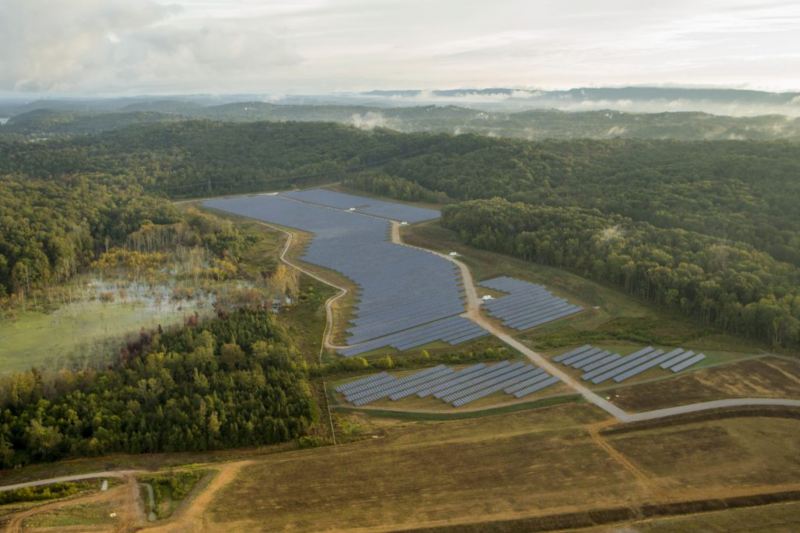 For solar farms, erosion can be problematic and the need for solid ground cover is incredibly important. At Chattanooga, about 50 sheep graze on the grass while fertilizing the soil at the same time, and unlike traditional mowers, sheep manage to get in hard-to-reach places to ensure the grass is neatly maintained.
The sheep move around the four different tracks of land of the solar farm to ensure grass can regenerate and the land isn't overused. The sheep are reliable workers, munching through grass every day of the year in varying temperatures. To help keep the sheep safe, Silicon Ranch Corp. employs "rescue" donkeys to alert the sheep of any threatening wildlife.
"The solar park is another proof point of Volkswagen's worldwide commitment to environmental protection," said Tom du Plessis, chief executive of operations in Chattanooga. "Knowing that we are producing renewable energy maintained by more sustainable solutions like sheep makes this initiative an example for other large factories in the United States."
Sheep are an adorable lawn-mowing solution that cause less damage than their goat friends, who are prone to jump on solar panels and bite through cables. The way sheep graze gives a uniform look to the grass they nibble and offers a more sustainable solution compared with  gas powered mowers and clippers.
The solar farm mowed by sheep was integral in the Chattanooga Volkswagen facility  achieving its initial Platinum LEED (Leadership in Energy and Environmental Design) status in 2011. The plant is  a key part of Volkswagen strategy to make its business carbon neutral worldwide though electrification – and in this case, also embracing a natural maintenance solution.