Over-the-Air Updates
Conveniently upgrade the software in your vehicle
Conveniently upgrade the software in your vehicle
How will I know when an OTA software update is available?
Similar to your computer or smartphone, any newly available software upgrade will be announced through an in-vehicle notification on your infotainment screen. For Car-Net subscribers, you will also receive an in-app notification when a software upgrade is available. You may also receive a mailer notifying you of the specific software update available for your vehicle.
If you're unsure if your vehicle qualifies for a software update or have not received a notification because you are not registered for Car-Net, we have a look-up tool available. Simply enter your vehicle identification number (VIN) to view any open campaigns, including software updates available, and contact your dealer for next steps.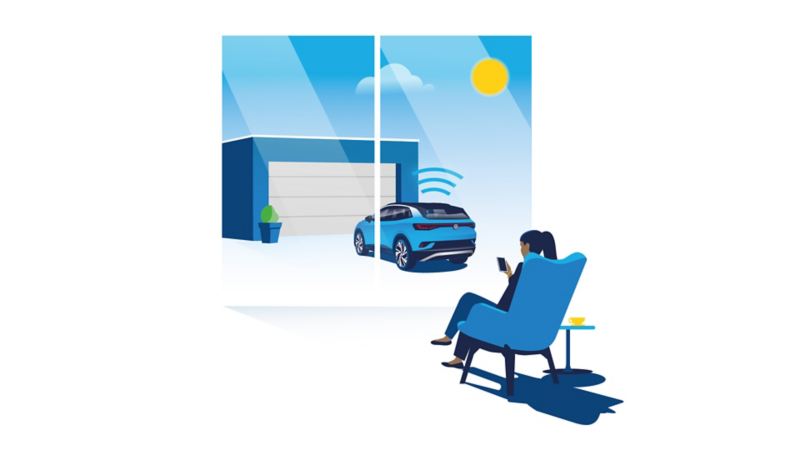 For electric vehicles, the download will occur automatically, in the background, while the vehicle is in operation.
For all other vehicles, you will need to initiate the download by tapping "Download" when prompted. You may safely drive the vehicle while the download takes place in the background. Turning off the ignition will automatically pause the download, but the download will continue automatically the next time you start your vehicle. Therefore, it may take several vehicle trips for the download to finish.
To postpone the download, you can simply tap "Cancel." You will be prompted again to tap "Download" each time you start your vehicle. You can also visit your dealership for an in-person software update.
IMPORTANT: Please do not drive the vehicle during installation as VW Car-Net services and emergency response systems will be inactive.
Once the software download completes, your vehicle is ready for the installation to begin. As soon as you turn your ignition off, your infotainment screen will prompt you to tap "Start" to begin installation. Once the installation begins, you can then leave and lock your vehicle. Installation time will vary based on the size of the update. The average installation will take approximately 15 minutes. Once the installation is complete, you will receive an in-vehicle prompt when you next start your vehicle.
To postpone the installation to a more convenient time, tap "Cancel."
NOTE: Your vehicle needs to meet certain conditions for the update to work. The green light on the 3-button module in your overhead console must be on and your vehicle needs to be in a location with sufficient network connectivity. If your software update cannot run over the air, please visit your local Volkswagen Dealer who can update the software in person.