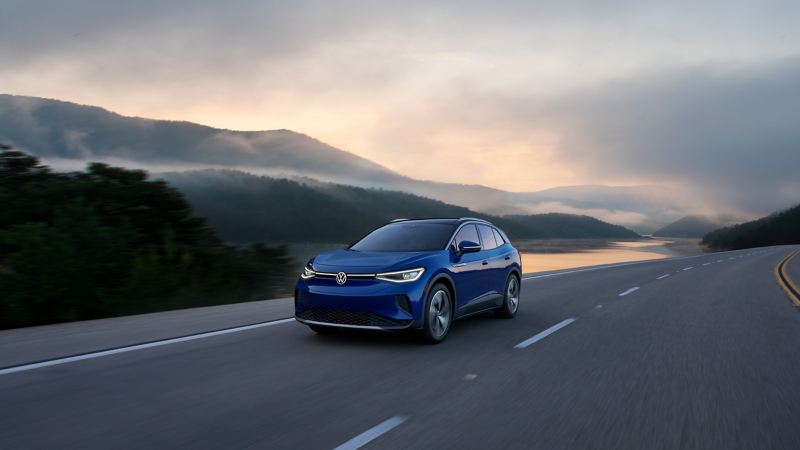 Getting your first

electric

vehicle

: What to know
As Volkswagen heads into its second year of sales for the ID.4 SUV, there's never been a better time to go electric. The ID.4 makes a definitive statement that an EV can deliver all the style, comfort, convenience, and value you've come to expect from gas-powered cars. It also proves that EVs can be fun to own and drive. If you're unfamiliar with what it's like to own an EV, here's some important information to get you started.
At-home charging is easy and convenient.
The Volkswagen ID.4 includes a Level 1 charging cable⁠. Simply plug it into a standard 120V household outlet in your garage, connect the other end to the port at the right rear of the vehicle, and just like that, you're charging.
Now imagine charging your ID.4 at a Level 2 wall box charger in your garage for 7 and a half hours to 11 and a half hours overnight⁠, and returning the next morning to find it fully charged with up to an EPA-estimated 280 miles of range.⁠ For this kind of fast charging, you can opt to get the new HomeStation Level 2 Home Charger with app control from Electrify Home. In its 40 amp configuration, it can charge 6.8 times faster than a standard Level 1 charger.
At-home charging is billed in the same way as any other electric usage. According to the U.S. Department of Energy, residential kilowatt-hour rates are, on average, much less expensive than the per-gallon cost of gas. Plus, in some parts of the U.S., EV owners can take advantage of utility discounts for nighttime or off-peak charging after enrollment in the utility program.
Charging on the go is fast and widely available.
If at-home charging isn't an option for you, or you regularly travel long distances, know that all ID.4 owners receive three years of public DC fast charging through the Electrify America network at no additional cost.⁠
Electrify America has built a convenient and reliable network of DC fast charging stations nationwide, located along major highways and cross-country routes, to help get you where you want to go.
An Electrify America public DC fast charger can get the battery in the ID.4 from 5 percent to 80 percent charge in about 38 minutes.⁠ Keep in mind that, with an EPA-estimated range of 280 miles⁠ in the ID.4, the average driver can complete a regular commute several times before needing to charge.⁠
The cost savings really start to add up.
Owning an EV can translate to long-term savings, given that oil changes and trips to the gas station will be things of the past. The Volkswagen ID.4 electric SUV can provide as much as $3,500 in estimated fuel cost savings over five years compared to the average gas-powered vehicle.⁠
Under current U.S. law, purchasers of certain electric vehicles may qualify for a federal income tax credit of up to $7,500.⁠
Finally, owning the ID.4 brings additional value with perks such as five years of Volkswagen Car-Net® Remote Access EV⁠ at no additional cost. This includes three years⁠ of access to Car-Net Plus Nav EV⁠ and the voice-activated Car-Net Plus Speech EV,⁠ which allows you to control system functions in the ID.4 by simply saying, "Hello ID."
Driving an EV is a breeze… and a lot of fun.
Starting the Volkswagen ID.4 is an entirely different experience than that of a gas-powered vehicle: With the key fob in your pocket, all you need to do is sit in the driver's seat and the ID.4 wakes up. Even starting in cold weather is no problem: Technology in the ID.4 helps to optimize heating efficiency while minimizing cold-temperature impact on the vehicle.
One difference between EVs and gas-powered cars is that the simple act of braking actually adds energy to the battery. Every time you use the brake, or even take your foot off the accelerator, an EV stores excess energy for later use, which makes for more efficient operation.
As for the fun part, that comes when you press the accelerator. Because an electric motor delivers power to the wheels instantaneously, you don't need to rev it to get up to speed. Maximum torque is available even at 0 RPM, which means smooth, seamless acceleration.
The fun continues when turning: The chassis used by the ID.4 places the battery between the car's axles, giving it a low center of gravity for better handling.
Whether you're an experienced electric-vehicle owner or looking to own your first one, it's a great time to build and reserve the all-new Volkswagen ID.4. And take the Volkswagen electric-vehicle quiz to see how an EV fits with your lifestyle.